Signs of a thaw? North Korea reopens hotline with South Korea ahead of Winter Olympics
North Korea contacted authorities in Seoul over a hotline for the first time in about two years, paving the way for a thaw during the Winter Olympics despite U.S. President Donald Trump's fresh taunts at Kim Jong Un.
Officials from both countries spoke several times Wednesday to conduct technical checks before agreeing to stop for the day, according to Lee Yeon-du, an official with South Korea's Unification Ministry. President Moon Jae-in has proposed holding talks Jan. 9 at the border village of Panmunjom, which would be the first formal gathering between the two sides since 2015.
The move shows further progress after Kim called for improved relations with South Korea in a New Year's Day address. Tensions over North Korea's nuclear program had threatened to hang over the Games in Pyeongchang, a city about 80 kilometers from the border dividing the Korean Peninsula.
The detente between the two Koreas progressed even as Trump continued a war of words with Kim, who warned on Monday that the nuclear button is "always on my desk." The U.S. president responded Tuesday night, saying on Twitter that he had "a much bigger & more powerful one than his, and my Button works!"
North Korean Leader Kim Jong Un just stated that the "Nuclear Button is on his desk at all times." Will someone from his depleted and food starved regime please inform him that I too have a Nuclear Button, but it is a much bigger & more powerful one than his, and my Button works!
— Donald J. Trump (@realDonaldTrump) January 3, 2018
While defense analysts believe Kim has as many as 60 nuclear bombs and missiles that can reach Washington, doubts remain over North Korea's ability to miniaturize a warhead and deliver it safely across the Pacific. Trump has codes to launch as many as 800 nuclear missiles in 10 minutes, said Daryl Kimball, executive director of the Washington-based Arms Control Association.
"Trump's reckless, juvenile Twitter taunts and threats against the nuclear-armed North Korean regime diminish U.S. credibility and increase risk of miscalculation that could lead to a catastrophic war," Kimball said by email.
The president has expressed doubts about Kim's pre-Olympics overtures, with an administration official saying North Korea is aiming to drive a wedge in the U.S.-South Korean alliance. The U.S. wants to avoid anything that might undermine its pressure campaign of sanctions and military threats to halt Kim's nuclear program.
"We are very skeptical of Kim Jong Un's sincerity in sitting down and having talks," State Department spokeswoman Heather Nauert told reporters in Washington. White House Press Secretary Sarah Sanders said "our policy hasn't changed at all."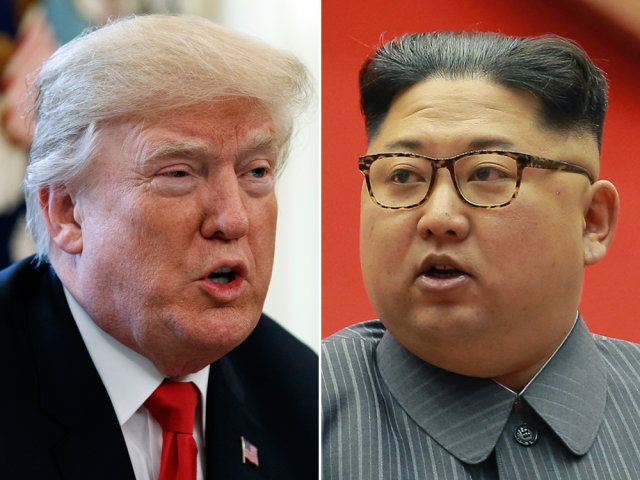 The war of words between U.S. President Donald Trump and North Korean leader Kim Jong Un continues to escalate.
South Korean Foreign Minister Kang Kyung-wha spoke by phone with U.S. Secretary of State Rex Tillerson to discuss recent developments regarding North Korea. The officials reaffirmed their commitment to a peaceful and diplomatic resolution of the North Korean nuclear issue through "watertight" cooperation, South Korea's foreign ministry said on Wednesday.
A Trump administration official said that the U.S. was in close touch with South Korea on a unified response to North Korea. The U.S. has about 30,000 troops in South Korea and provides a nuclear deterrent.
Following Kim's call on Wednesday to reopen the hotline between the countries, several stocks connected with North Korea gained. J.Estina Co., a jewelry and accessory maker, jumped 5.1 per cent. Its factory in the jointly run Gaeseong industrial park has been closed for almost two years.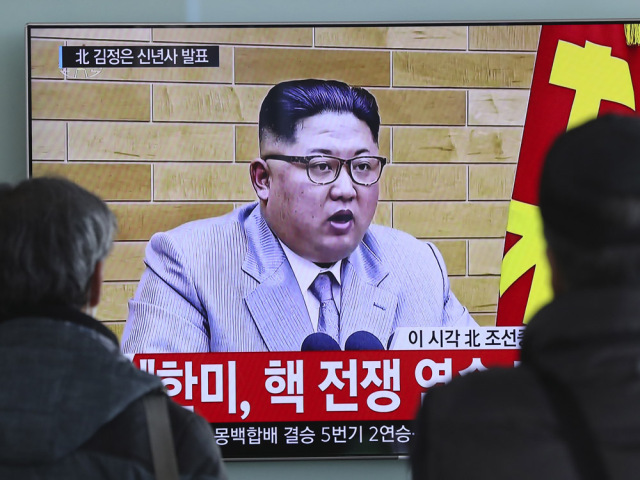 South Koreans watch a TV news program showing North Korean leader Kim Jong Un's New Year's address, at the Seoul Railway Station in South Korea, Monday, Jan. 1, 2018.
Moon sparred with Trump last year over offers of dialogue to North Korea, and has repeatedly sought to reassure his citizens that he's doing everything to prevent a war. He has long pushed for North Korea to attend the Olympics.
Besides discussing the Olympics, South Korea is looking to improve overall relations with North Korea during the discussions. While Kim might seek an easing of sanctions and the cancellation of joint military exercises between the U.S. and South Korea, analysts said easier measures would include humanitarian assistance and reuniting separated families.
Earlier on Wednesday, Kim welcomed Moon's follow-up steps for talks between the two countries in a statement on the Korean Central News Agency that included none of the usual insults that North Korea has often used to describe its southern neighbor.
"We will try to keep close communications with the south Korean side from sincere stand and honest attitude, true to the intention of our supreme leadership, and deal with the practical matters related to the dispatch of our delegation," KCNA said. It called the talks "the first meaningful and good step for improved north-south relations."

With assistance from Margaret Talev Nick Wadhams and Jennifer Epstein