Seven lessons Chris Hadfield taught us from outer space
After five months in orbit, astronaut Commander Chris Hadfield, the first Canadian to command the International Space Station, returned to Earth Monday night. The Post's Sarah Boesveld rounded up seven lessons he brought us from the great beyond:
Space is still awesome

Planetary obsession has mostly been the domain of science nerds since the heyday of the Apollo missions, but Cmdr. Hadfield changed all that by bringing life on a space ship "down to earth" for every day people, said fellow Canadian astronaut David Saint-Jacques. "He's brought space back into the public eye and he's made it cool again," he said. Cmdr. Hadfield is now probably one of the most popular people in Canada, clocking more than 850,000 Twitter followers and counting (he had 20,000 before takeoff). His YouTube channel, featuring exchanges with William Shatner and Stephen Harper, has more than 48,631 subscribers.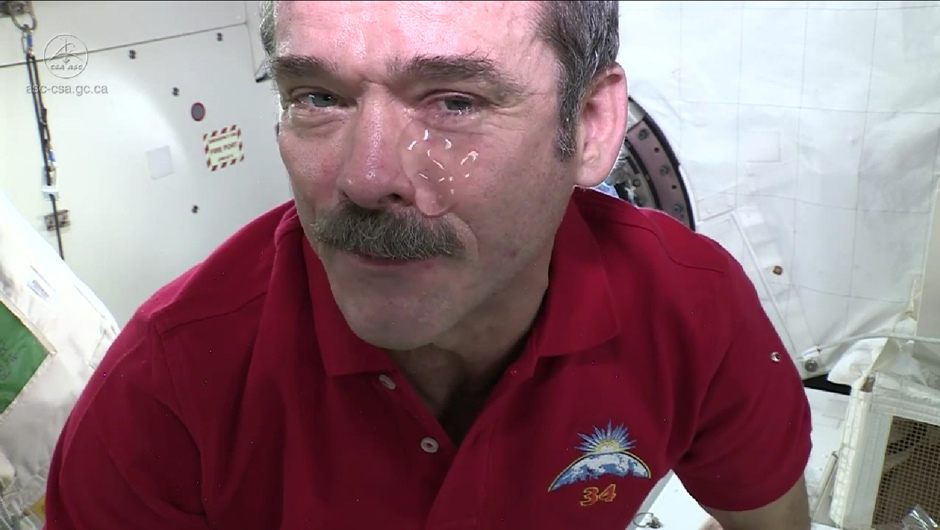 Hadfield/TwitterThere's no crying in space (video of Hadfield answering a child's question about tears in space)
There's no crying in space
Tears will just form a giant watery blob so there's no use shedding them, Cmdr. Hadfield demonstrated via YouTube, in answer to a question from a curious Earthbound student. Since he can't cry on command, he put drops his eyes and demonstrated: "Just as if I started crying, my eye is full of tears," he said, moving closer to the camera. "But you can see it just forms a ball on my eye."
Related

Chris Hadfield prepares for return to Earth with rendition of Space Oddity aboard the ISS
Matt Gurney: Chris Hadfield sure knows how to end a mission with style
You can be an astronaut and a rock star

The already musically inclined 53-year-old sang with Barenaked Lady Ed Robertson, and with students nation-wide for 'Music Monday.' But Cmdr. Hadfield secured true retro rock cred with his cover of David Bowie's Space Oddity, viewed more than 1.8 million times since it was posted Sunday afternoon. With the help of, among others, Canadian singer-songwriter Emm Gryner (who once sang back-up for Mr. Bowie) and son Evan (who has run all of his father's social media efforts), the guitar-slinging astronaut drew Twitter praise from the original artist, who can only dream of actually going to space.


YouTube/NASACanadian astronaut Chris Hadfield shows us his "space kitchen" and prepares a 0-g treat. Free-floating food-eating ensues, complete with a tumbling tortilla
Sometimes you have to hunt your food
How does an astronaut eat? Cmdr. Hadfield answered that question with a fun series of videos called 'Chris's Kitchen,' in which he cooked vacuum-packed spinach, slurped chocolate pudding cake with hot coffee and smeared peanut butter on a floating tortilla that zoomed past him at one point ("Woah! It got away!"). And what if you upchuck? Cmdr. Hadfield had an answer for that too: Special vomit bags for astronauts, complete with a liner. "He's managed to bring it home, the fact that we're not merely surviving in orbit right now — we're living up there," Dr. Saint-Jacques said.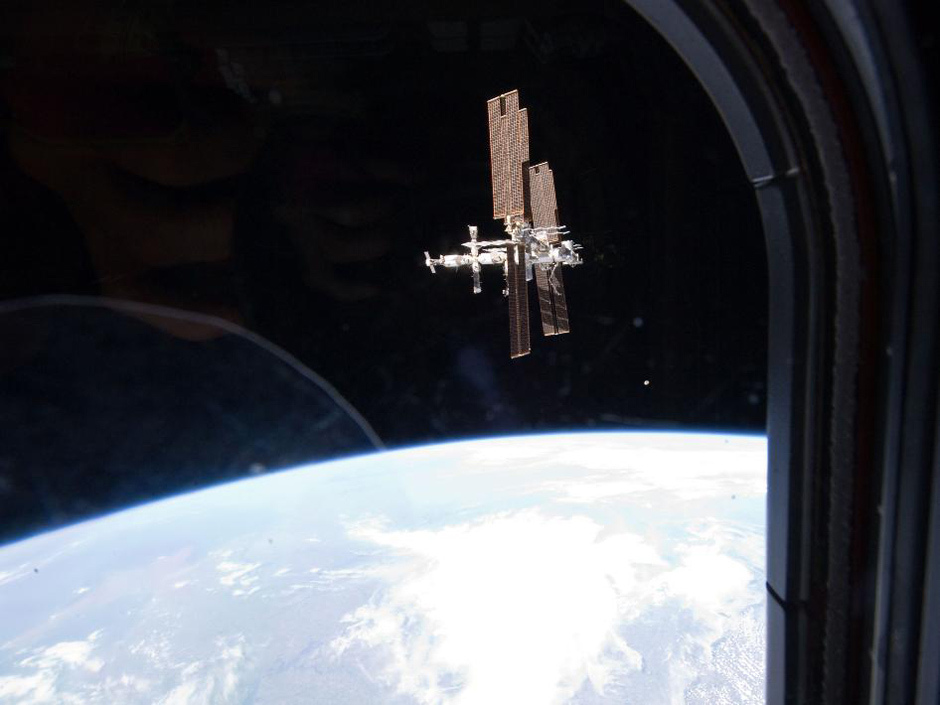 NASA International Space Station
He wasn't just Tweeting up there
Apart from taking cool photographs and shooting video, Cmdr. Hadfield and his team broke the record for science experiments performed on board the space station, Dr. Saint-Jacques said — approximately 130. "The more efficient they are at doing these repairs … the more time they have to work and actually do science," he said. The Canadian and global experiments mostly squared on the health of astronauts as they adapt to zero-gravity conditions. They hope results of the studies, which include a University of Waterloo study on the cardiovascular system, can help improve healthcare on Earth.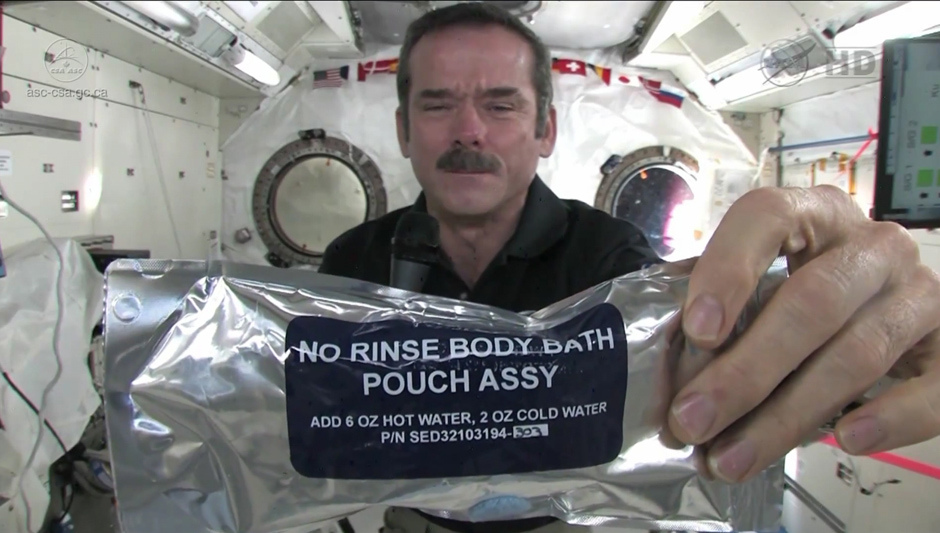 Chris Hadfield/TwitterPersonal hygiene is a must.
Hygiene is just as important in space
The very everyday task of fingernail trimming becomes quite taxing in zero-gravity conditions, Cmdr. Hadfield demonstrated very patiently. A haircut happens with clippers affixed to a vacuum. How about shaving that glorious moustache? He uses special astronaut shaving cream. Toothbrushing is done with a blob of drinking water and regular toothpaste, but he can't spit — he has to swallow.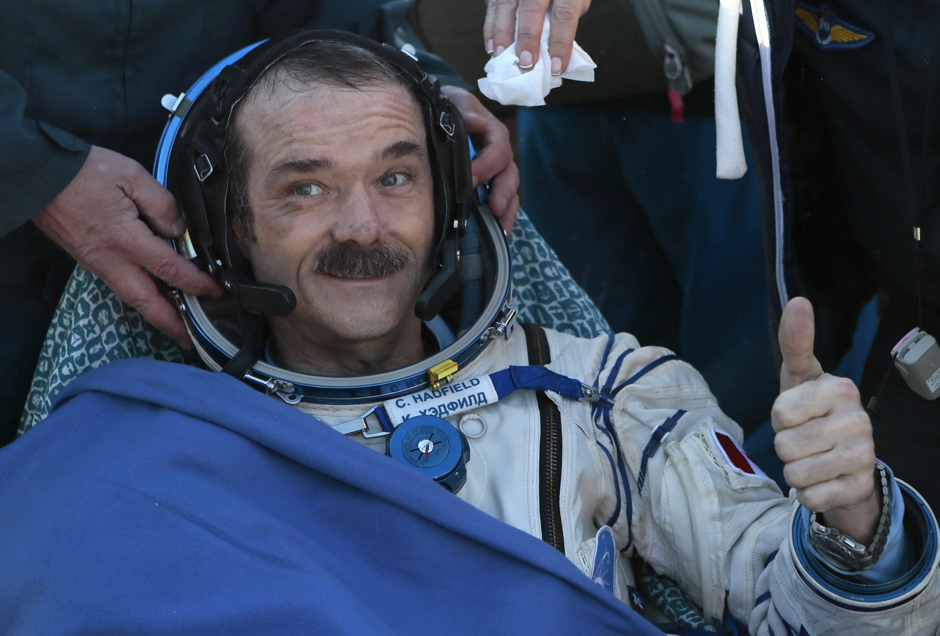 AP Photo/Mikhail Metzel, PoolChris Hadfield, gestures shortly after the landing of the Russian Soyuz TMA-07 space capsule about 150 km south-east of the Kazakh town of Dzhezkazgan, Tuesday, May 14, 2013.
The Canadian Space Agency owes Hadfield a lot
If the CSA ever had a public relations problem, it doesn't anymore. Dr. Saint-Jacques said he thinks the Hadfield mission will help keep the Canadian Space Program growing, now that the public is aware of it and excited about it. "We know government has all these important priorities," he said. "But you have to keep a small portion of your efforts in blue sky dreaming, to looking toward the future because that is how you grow."
Hadfield showed us the world
Every day Cmdr. Hadfield tweeted pictures that he took from the ISS. He gave us a different look at the world we know.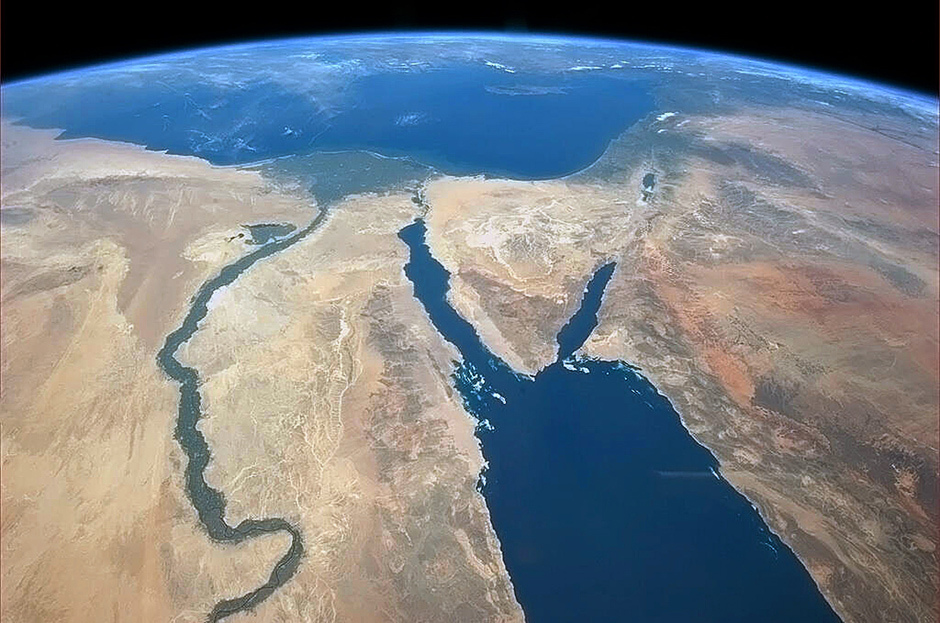 NASA / Chris Hadfield This NASA handout image captured by Canadian astronaut Chris Hadfield on board the International Space Staion(ISS) on March 20, 2013, shows the Nile River, the Nile River delta, the Sinai Peninsula and beyond.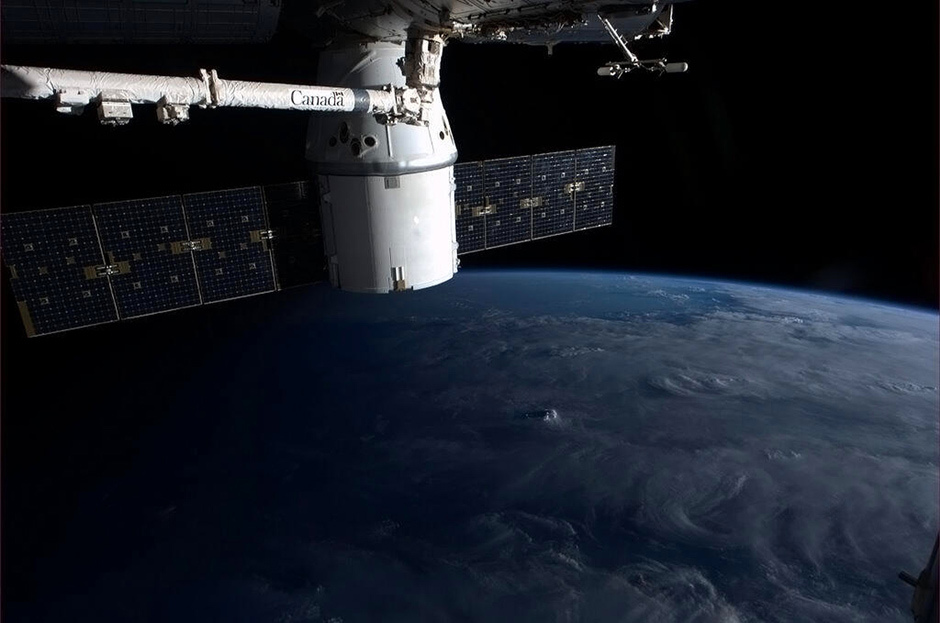 AFP PHOTO/HANDOUT/ NASA / Chris Hadfield This NASA image shows Canadarm2 and the Dragon supply ship, as the shadow of night falls across the Earth, captured by Canadian astronaut Chris Hadfield on board the International Space Staion(ISS) on March 9, 2013.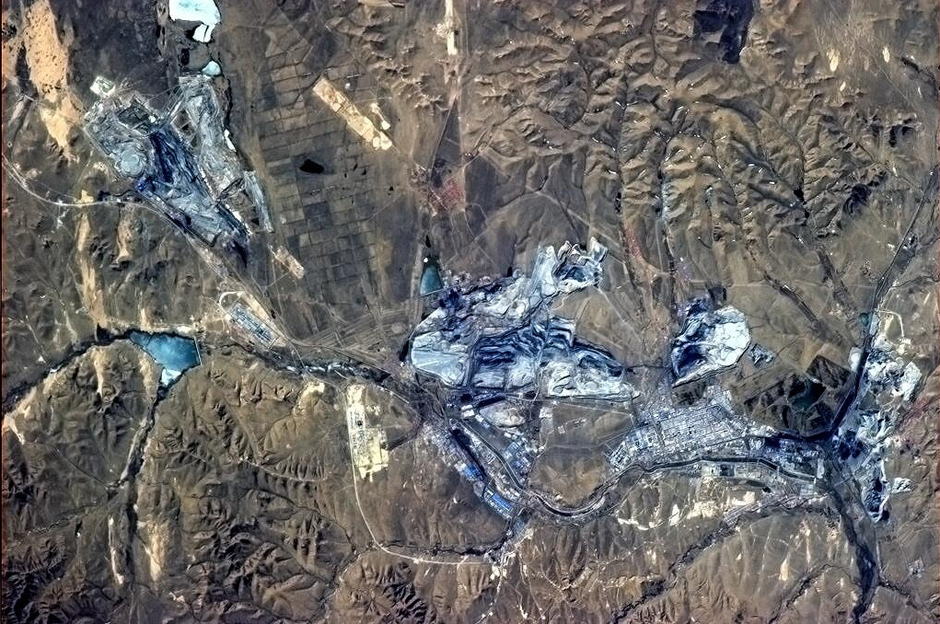 CHRIS HADFIELD VIA TWITTERMining town in northern China - the open pits gleam with blue from space.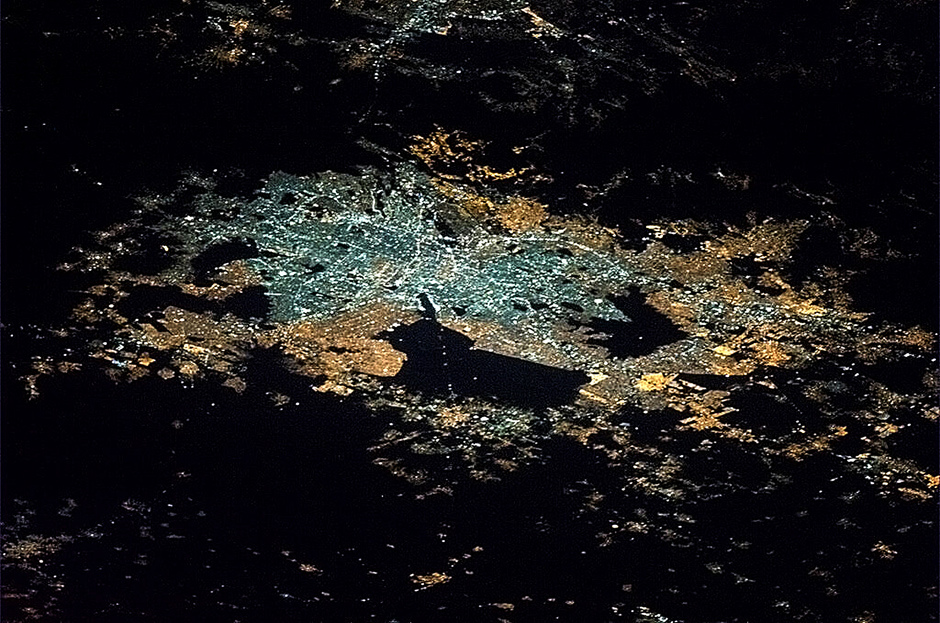 AFP PHOTO / NASA / Chris Hadfield This NASA handout image captured by Canadian astronaut Chris Hadfield on board the International Space Staion(ISS) on March 24, 2013, shows a night view of Mexico City. Mexico City has one of the largest metropolitan areas on Earth- housing roughly the same population as Australia.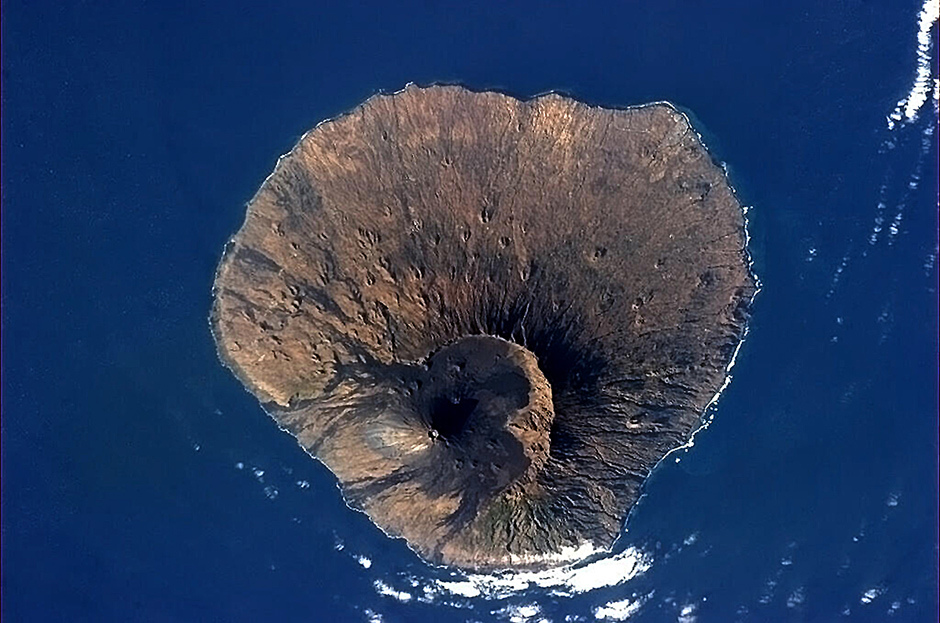 Chris Hadfield/AFP/Getty ImagesThe inactive volcano in the Fogo National Park on Fogo, Cape Verde.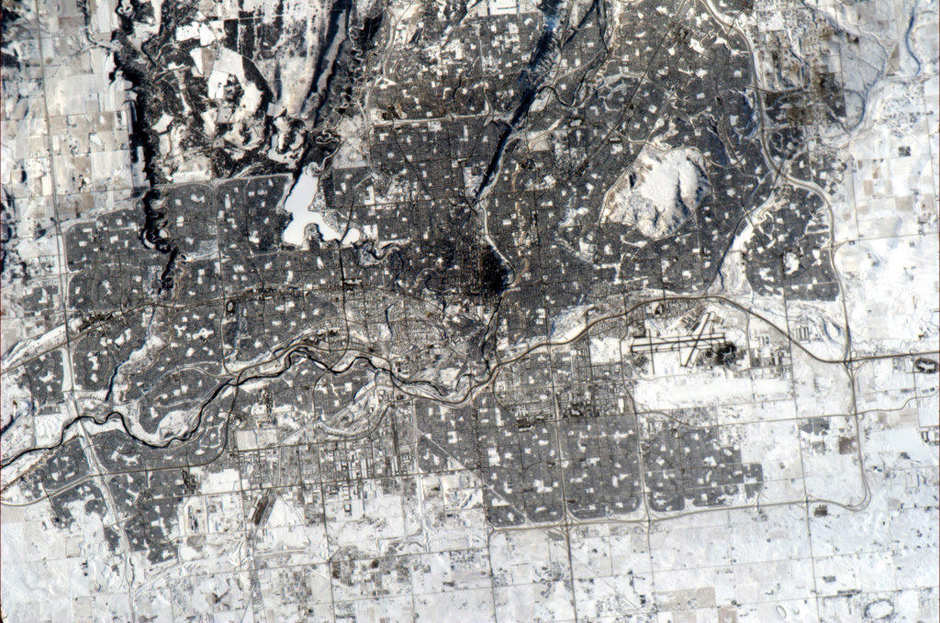 THE CANADIAN PRESS/Chris Hadfield, NASA, via TwitterCalgary is pictured from space on a clear winter's day on Jan. 3, 2013, in a photo posted on Twitter by Canadian astronaut Chris Hadfield.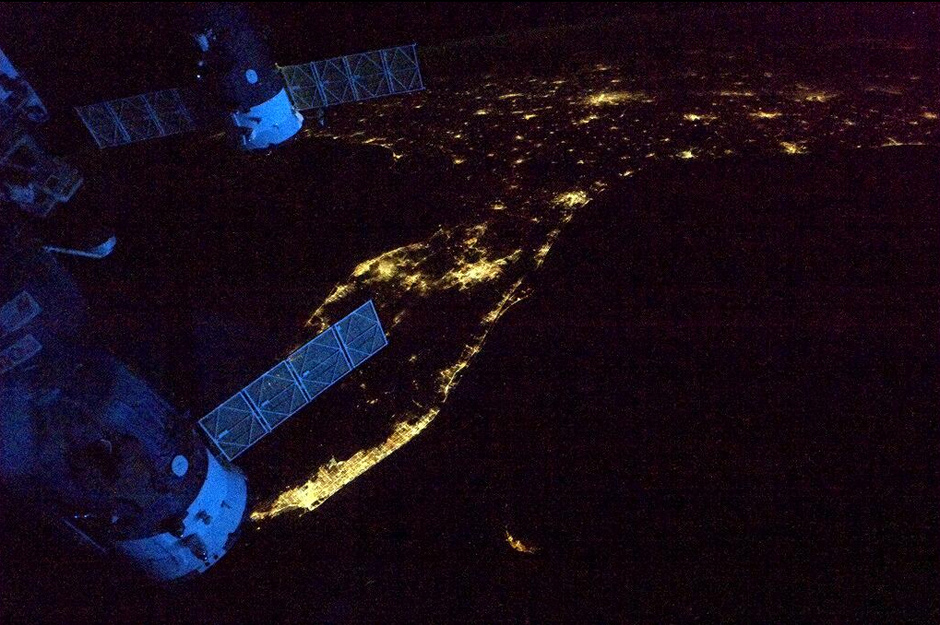 CHRIS HADFIELD VIA TWITTERSpaceships glowing blue in the dawn as we leave Florida headed across the Atlantic.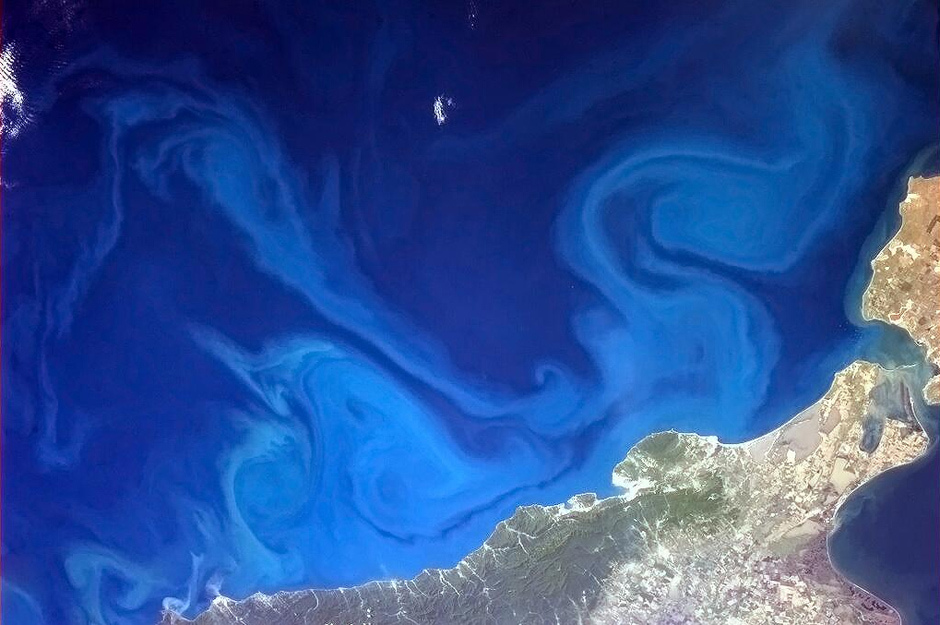 CHRIS HADFIELD VIA TWITTERDr. Seuss-inspired swirls in the Black Sea.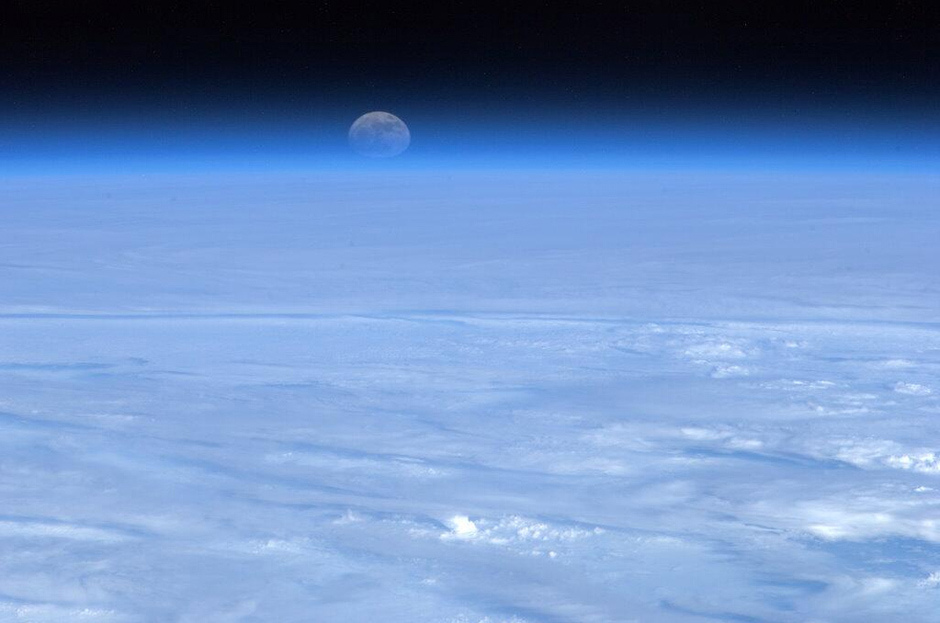 CHRIS HADFIELD VIA TWITTERThe Moon rising over a bed of cloud. A constant reminder to us all of what can be achieved.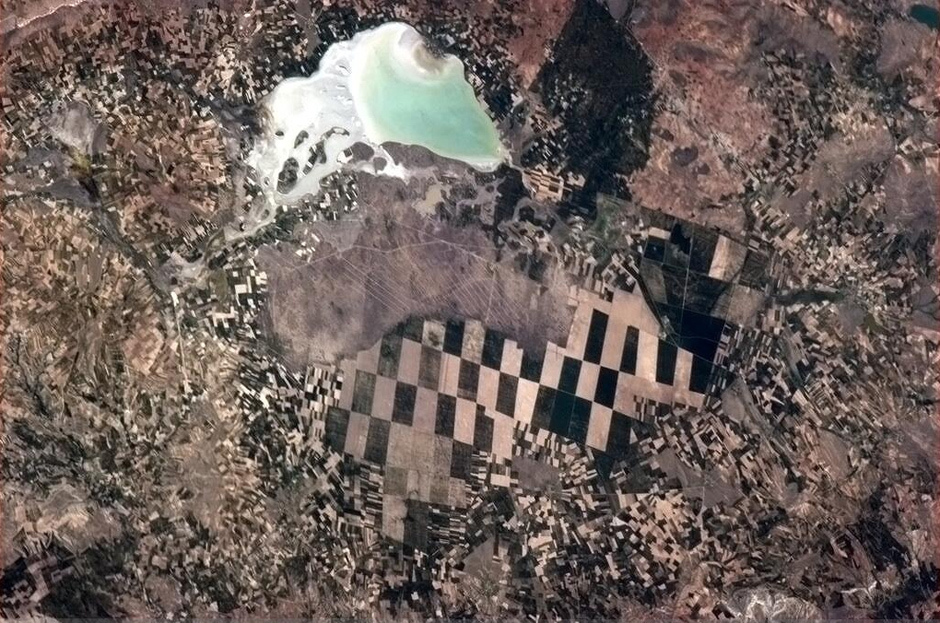 CHRIS HADFIELD VIA TWITTERLittle farmers, big farmers and nature, in Turkey.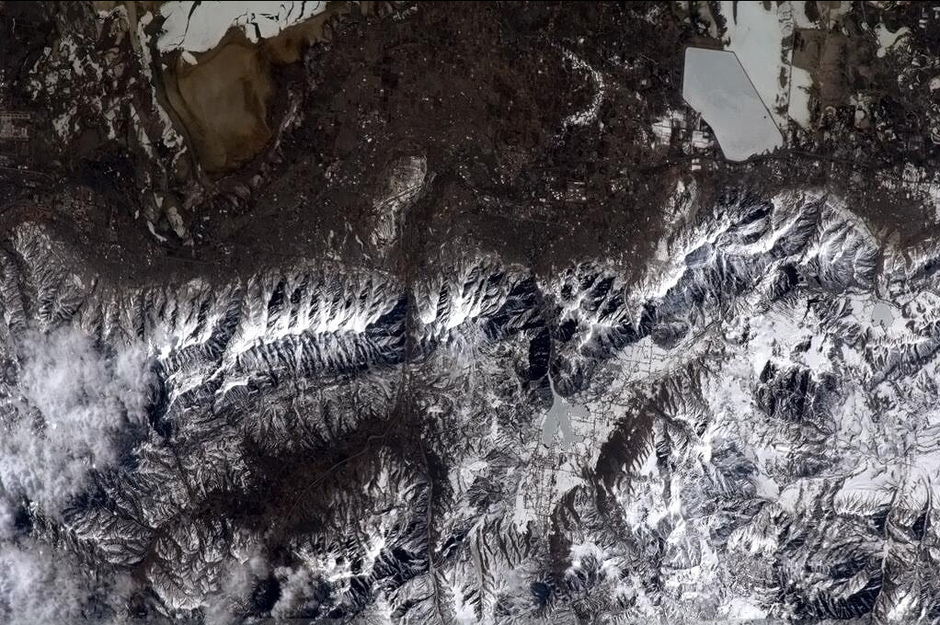 CHRIS HADFIELD VIA TWITTERUtah ski hills, dry powder and Winter Olympics.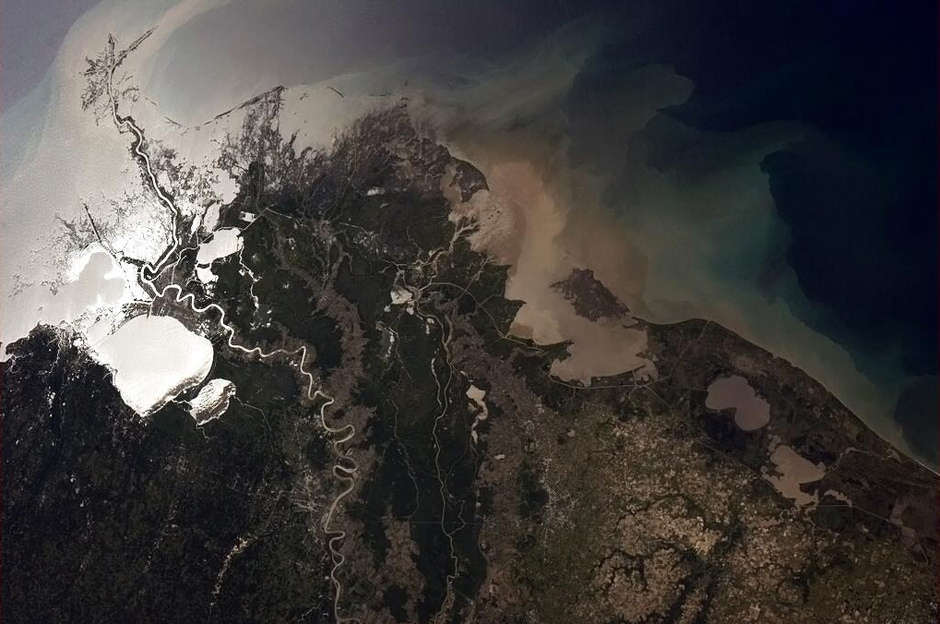 CHRIS HADFIELD VIA TWITTERMississippi delta - heartland topsoil flowing relentlessly into the Gulf of Mexico.
National Post