Sebelius to insurers: Make my day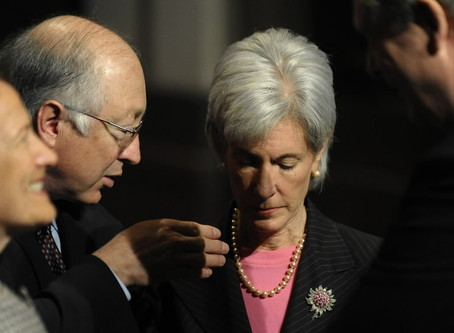 The health-care story of the day is that insurers think they've found a way to get around getting around Congress's intent to ban preexisting condition discrimination for children. Details here. This afternoon, Secretary of Health and Human Services Kathleen Sebelius sent a letter (pdf) to Karen Ignagni, head of the insurers trade association, saying, essentially, are you sure you want to try this?
In the letter, Sebelius says that she will issue regulations clarifying that the law says children cannot be denied access to their parents' plan and that the plan cannot exclude coverage for their preexisting conditions. "I urge you to share this information with your members," Sebelius says, "and to help ensure they cease any attempt to deny coverage to some of the youngest and most vulnerable Americans."
The politics -- and policy -- of this fight will be interesting. For the Republicans, this is a good issue in that it makes the bill look shoddily written. "If they can't get these two things right," Sen. Mitch McConnell asked in his weekly radio address, "how can we expect them to properly manage the rest of it?"
Oddly, this is also a good issue for the Democrats. Why? Well, it lets them pick a fight with insurers who are trying to deny health-care coverage to sick little kids. Ignagni might as well kick an endangered puppy-panda hybrid in the face. On national television. While rooting for Duke to win the NCAA tournament.
The losers here are actually the insurers. As far as I can tell, their reading of the law is legitimate. And they have a lot to lose from a fight with the administration. It's not obvious that Sebelius actually can change this with a stroke of her pen, but there are plenty of other things she can do with a stroke of her pen that will make the insurance industry's life very, very difficult. And since this policy actually isn't a very big deal -- fairly few kids are uninsured because their preexisting conditions are keeping them off their parents' plan -- I'd guess that the administration and the insurers reach some sort of accord on this.
Photo credit: Ricky Carioti/The Washington Post.