Search for Bangladesh dead concludes; 1,127 bodies accounted for in worst disaster in history of garment industry
SAVAR, Bangladesh — Nearly three weeks after a Bangladesh garment-factory building collapsed, the search for the dead ended Monday at the site of the worst disaster in the history of the global garment industry. The death toll: 1,127.
Mohammed Amir Hossain Mazumder, deputy director of fire service and civil defence, told The Associated Press the search for bodies from the April 24 collapse was called off at 6 p.m. (1200GMT). "Now the site will be handed over to police for protection. There will be no more activities from fire service or army," he said.
Bulldozers and other vehicles have been removed from the building site, which will be fenced with bamboo sticks. Red flags have been erected around the site to bar entry.
This came as many international clothing companies, including H&M, agreed to a legally binding deal with the Bangladesh trade unions which would create
The last body was found on Sunday night. A special prayer service will be held Tuesday to honour the dead, said army Brig. Gen. Mohammad Siddiqul Alam Shikder.
For more than 19 days, the collapsed Rana Plaza in the Dhaka suburb of Savar had been the scene of frantic rescue efforts, anguished families and the overwhelming smell of decaying flesh.
Related

Miracles were few, but on Friday, search teams found Reshma Begum, a seamstress who survived under the rubble for 17 days on dried food and bottled and rain water.
Begum spoke to reporters Monday from the hospital where she is being treated. She told them she never expected to be rescued alive, and she vowed, "I will not work in a garment factory again."
The collapse of the Rana Plaza building focused global attention on hazardous conditions in Bangladesh's powerful garment industry. On Monday, the government agreed to allow the country's garment workers to form trade unions without permission from factory owners as part of growing concessions for industry reform.
I will not work in a garment factory again
Working conditions in the $20 billion industry are grim, a result of government corruption, desperation for jobs, and industry indifference. Minimum wages for garment workers are among the lowest in the world at 3,000 takas ($38) a month.
The Rana Plaza owner and eight other people, including garment factory owners, have been detained in the collapse investigation. Authorities say the building owner added floors to the structure illegally and allowed the factories to install heavy equipment that the building was not designed to support.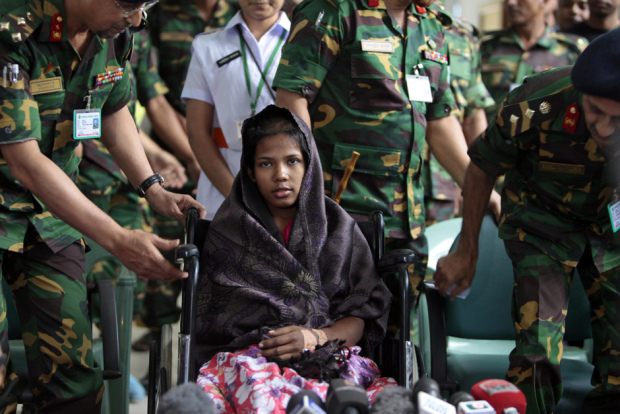 AP Photo/A.M. AhadReshma Begum, center, the 19-year-old seamstress who spent 17 days trapped in the rubble of a collapsed factory building talks to the media at a hospital in Savar, near Dhaka, Bangladesh, Monday, May 13, 2013. Begum spoke to reporters Monday from the hospital where she is being treated. She told them she never expected to be rescued alive, and she vowed, "I will not work in a garment factory again."
The Cabinet decision to allow trade unions came a day after the government announced a plan to raise the minimum wage for garment workers. Both moves are seen as a direct response to the collapse of the building, which housed five garment factories.
Government spokesman Mosharraf Hossain Bhuiyan said the Cabinet approved an amendment to the 2006 Labor Act lifting restrictions on forming trade unions in most industries. The old law required workers to obtain permission before they could unionize.
"No such permission from owners is now needed," Bhuiyan told reporters after the Cabinet meeting presided over by Prime Minister Sheikh Hasina. "The government is doing it for the welfare of the workers."
No such permission from owners is now needed. The government is doing it for the welfare of the workers
Local and international trade unions have long campaigned for such changes.
Though the 2006 law technically allowed trade unions — and they exist in many of Bangladesh's other industries — owners of garment factories never allowed them, saying they would lead to a lack of discipline among workers.
Trade union leaders responded cautiously.
"The issue is not really about making a new law or amending the old one," said Kalpana Akter of the Bangladesh Center for Workers Solidarity, a group campaigning for garment workers' rights. "In the past whenever workers tried to form associations they were subjected to beatings and harassment," she said. "The owners did not hesitate to fire such workers."
Bangladesh's government has in recent years cracked down on trade unions attempting to organize garment workers. In 2010 Hasina's government launched an Industrial Police force to crush street protests by thousands of workers demanding better pay and working conditions.
That year police arrested at least six activists, including Akter, on charges of instigating workers to vandalize factories. They were later freed, but some charges are still pending.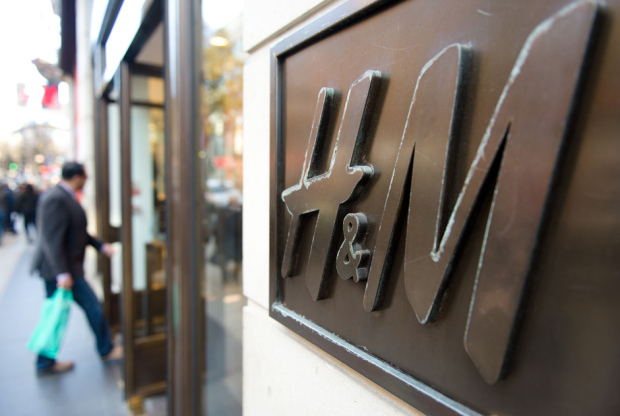 LEON NEAL/AFP/Getty ImagesPicture taken on December 16, 2012 shows a shopper entering a branch of Swedish retail giant H&M in central London. H&M said on May 13, 2013 it had agreed to sign an agreement drafted by global unions to improve safety in the Bangladeshi textile factories it uses.
The activists are also angry that police have made no headway in the investigation of the death of a fellow union organizer, Aminul Islam, who was found dead a day after he disappeared from his home in 2012.
"Islam's case is going nowhere even though police say they are investigating," said Akter.
Swedish fashion retailer H&M said Monday that it will sign up to a legally binding fire and building safety plan drawn up by unions in Bangladesh, following the deaths of hundreds of garment workers in a building collapse there last month.
The company described safety issues as "extremely important," saying that it supports the Accord on Fire and Building Safety in Bangladesh, initiated by IndustriALL Global Union.
"The parties will be committed to the goal of a safe and sustainable Bangladeshi Ready Made Garment industry in which no worker needs to fear fires, building collapses or other accidents that could be prevented with reasonable health and safety measures," the company said in a press release. "H&M appreciates ILO (the U.N. International Labor Organization) playing a vital part as co-ordinator."
Forty garment buyers, including Wal-Mart, H&M, and J.C. Penney, met with labour rights groups on April 29 in Germany to discuss how the industry could improve safety conditions in Bangladesh, with labour groups setting Wednesday as the deadline for companies to commit to the plan. The agreement would require clothing companies to pay for needed safety improvements and allow independent inspections of the factories in Bangladesh.
A fire and safety proposal drawn up last year by labour unions, which included the establishment of an independent inspectorate to oversee all factories in Bangladesh, was rejected by companies in the country's clothing industries as too costly and legally binding.
Two other clothing companies — PVH, the parent company of such brands as Calvin Klein and Tommy Hilfiger, and Tchibo, a German retailer — have already signed up to the plan. Gap was close to signing last fall but then backed out and announced its own plan that included hiring an independent fire safety expert to inspect factories.
Adding to the pressure on retailers, Avaaz, a human rights group with 21 million members worldwide, has garnered more than 900,000 signatures on a petition pushing Gap and H&M to commit to the proposal.
H&M said the new five-year accord was a "pragmatic step," and urged for a broad coalition of brands to reach an agreement that covers the entire industry of some 5,000 factories in Bangladesh.
Founded in 1947, H&M has more than 2,800 stores in 48 countries and employs more than 100,000 people. In addition to H&M, the group includes the brands COS, Monki, Weekday and Cheap Monday, & Other Stories as well as H&M Home.
"Our strong presence in Bangladesh gives us the opportunity to contribute to the improvement of the lives of hundreds of thousands of people and contribute to the community's development," H&M spokeswoman Helena Hermersson said in a statement. She added that by being on site in Bangladesh and putting demands on manufacturers and working for improvements, "we can slowly but surely contribute to lasting changes."
The company declined to comment on the accord apart from statements made in their Monday press release.
On Monday, nearly 100 garment factories shut down in the Ashulia industrial area near Dhaka, the capital, after protests erupted over the death of a female worker whose body was found inside a garment factory.
The body of Parul Akter, 22, was found on Friday. A local police official, Badrul Alam, said she committed suicide.
Thousands of workers took to the streets Monday and vandalized vehicles and shops before police used sticks to disperse the protesters. Several people were injured, said a police official who spoke on condition of anonymity because he was not authorized to speak publicly.
The wage board will include representatives of factory owners, workers and the government, he said.
Islam's case is going nowhere even though police say they are investigating
Bangladesh has 5,000 garment factories and 3.6 million garment workers. It is the third-biggest exporter of clothes in the world, after China and Italy. China lacks independent labour unions for all industries; the only legal unions are controlled by the Communist Party, and workers complain that they fail to represent their interests.
On Sunday, the Bangladesh government set up a new minimum wage board that will issue recommendations for pay raises within three months, Textiles Minister Abdul Latif Siddiky said. The Cabinet will then decide whether to accept those proposals.
Government officials also have promised improvements in safety. Since 2005, at least 1,800 garment workers have been killed in factory fires and building collapses in Bangladesh, according to research by the advocacy group International Labor Rights Forum.
In November, 112 workers were killed in a garment factory in Dhaka, the Bangladeshi capital. The factory lacked emergency exits, and its owner said only three floors of the eight-story building were legally built.