Russian parliament approves anti-gay law that would impose fines for 'propaganda' in 436-0 vote
MOSCOW — A bill that stigmatizes gay people and bans giving children any information about homosexuality won overwhelming approval Tuesday in Russia's lower house of parliament.
Hours before the State Duma passed the Kremlin-backed law in a 436-0 vote with one abstention, more than two dozen protesters were attacked by hundreds of anti-gay activists and then detained by police.
The bill banning the "propaganda of nontraditional sexual relations" still needs to be passed by the appointed upper house and signed into law by President Vladimir Putin, but neither step is in doubt.
The measure is part of an effort to promote traditional Russian values instead of Western liberalism, which the Kremlin and the Russian Orthodox Church see as corrupting Russian youth and contributing to the protests against Putin's rule.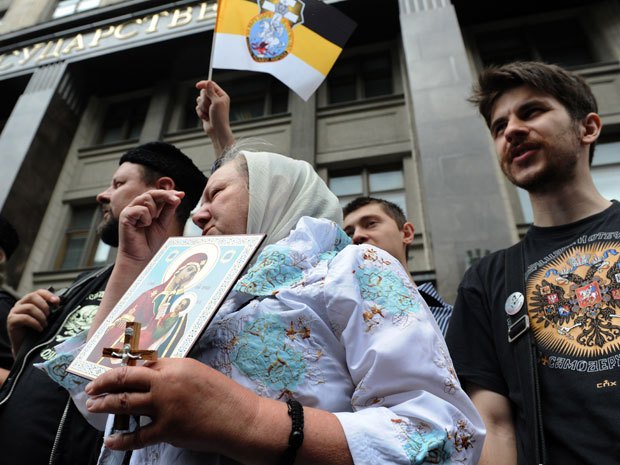 Vasily Maximov / AFP / Getty Images Anti-gay orthodox activist demonstrate outside the lower house of Russias parliament, the State Duma, in Moscow, on June 11, 2013, to support a bill banning homosexual "propaganda" among minors. Russia's parliament debated today a law introducing steep fines and jail terms for people who promote homosexual "propaganda" to minors, a measure critics fear will be used to justify the repression of gays amid rising homophobia in the country.
Related

The only parliament member to abstain Tuesday was Ilya Ponomaryov, who has supported anti-Putin protesters despite belonging to a pro-Kremlin party.
A widespread hostility to homosexuality is shared by much of Russia's political and religious elite. Lawmakers have accused gays of decreasing Russia's already low birth rates and said they should be barred from government jobs, undergo forced medical treatment or be exiled.
The State Duma passed another bill on Tuesday that makes offending religious feelings a crime punishable by up to three years in prison. The legislation, which passed 308-2, was introduced last year after three members of the Pussy Riot punk group were convicted of "hooliganism motivated by religious hatred" for an impromptu anti-Putin protest inside Moscow's main cathedral and given two-year sentences.
Both bills drew condemnation from Amnesty International.
"They represent a sorry attempt by the government to bolster its popularity by pandering to the most reactionary elements of Russian society – at the expense of fundamental rights and the expression of individual identities," John Dalhuisen, the human rights group's Europe and Central Asia program director, said in a statement.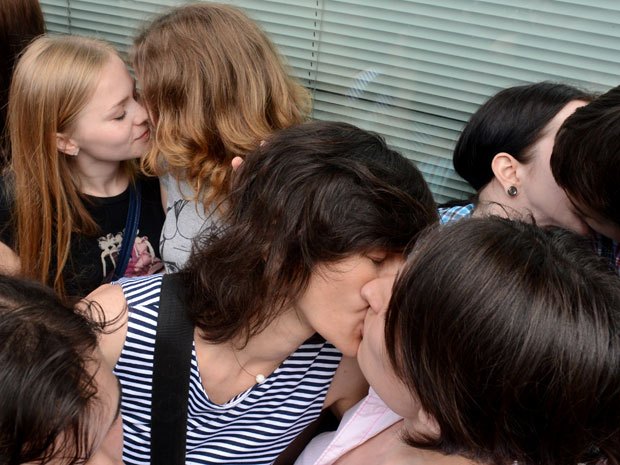 Kirill Kudryavtsev / AFP / Getty Images Russian gay rights activists kiss each other outside the lower house of Russia's parliament, the State Duma, in Moscow, on June 11, 2013, during their protest. Russia's parliament debated today a law introducing steep fines and jail terms for people who promote homosexual "propaganda" to minors, a measure critics fear will be used to justify the repression of gays amid rising homophobia in the country.
Thousands of Russian opposition activists marched through Moscow on Wednesday, decrying Putin's authoritarian rule and calling for the release of people they consider political prisoners.
The march on Russia Day, a national holiday, was to show support for 27 people arrested after a protest turned violent on the eve of Putin's inauguration more than a year ago. Sixteen of the defendants have remained in jail pending trial on charges that could send them to prison for up to 10 years.
The arrests, especially those of ordinary Russians who had joined the anti-Putin rallies for the first time and who in some cases seemed to have been grabbed at random, appeared to have been part of Kremlin efforts to deter people from joining any future protests.
The estimated 10,000 to 15,000 protesters who turned out Wednesday were far fewer than the 100,000 or more who rallied against Putin before his election to a third term, reflecting a wariness that has taken the steam out of the protest movement. But the turnout was still higher than many had expected.
Before the anti-gay vote on Tuesday, rights activists attempted to hold a "kissing rally" outside the State Duma, located across the street from Red Square in central Moscow, but they were attacked by hundreds of Orthodox Christian activists and members of pro-Kremlin youth groups. The mostly burly young men with closely cropped hair pelted the activists with eggs, shouting obscenities and homophobic slurs at them.
Riot police moved in, detaining more than two dozen protesters, almost all of them gay rights activists. Some who were not detained were beaten by masked men on another central street.
The legislation will impose hefty fines for providing information about the lesbian, gay, bisexual and transgender (LGBT) community to minors or holding gay pride rallies. Those breaking the law will be fined up to 5,000 rubles ($156) for an individual and up to 1 million rubles ($31,000) for a company, including media organizations.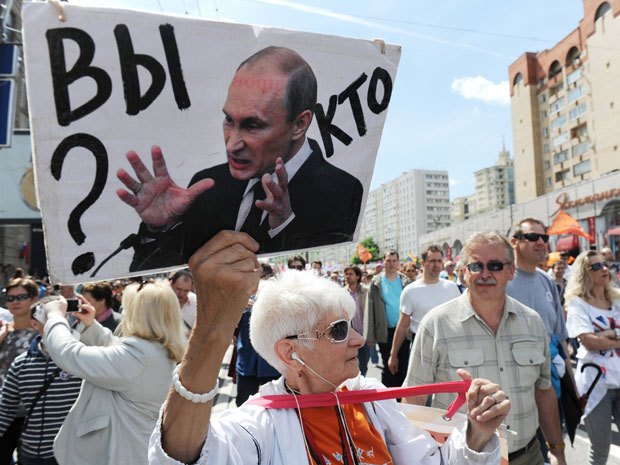 Vasily Maximov / AFP / Getty Images A woman holds a picture of Russian prime minister Vladimir Putin reading "Who are you?" during an opposition rally in central Moscow on June 12, 2013. Several thousand people marched through Moscow on Wednesday to show support for anti-Kremlin protesters on trial and in jail, a day after Vladimir Putin lobbed fresh accusations at Washington for supporting a protest movement against him.
Foreign citizens arrested under the new law can be deported or jailed for up to 15 days and then deported. European gay rights activists have joined Russians in trying to hold gay pride rallies in Moscow in recent years.
Russia decriminalized homosexuality in 1993, but anti-gay sentiment remains high. Russia also is considering banning citizens of countries that allow same-sex marriage from adopting Russian children.
Earlier Tuesday, dozens of anti-gay activists picketed the Duma. One of them held a poster that read: "Lawmakers, protect the people from perverts!" while others held Orthodox icons and chanted prayers.
Russian and foreign rights activists have decried the bill as violating basic rights.
"Russia is trying very hard to make discrimination look respectable by calling it 'tradition,' but whatever term is used in the bill, it remains discrimination and a violation of the basic human rights of LGBT people," Graeme Reid, the LGBT rights program director at Human Rights Watch, said Tuesday in a statement.
Lyudmila Alexeyeva, one of Russia's oldest and most prominent rights activists, called the law "a step toward the Middle Ages."
"In normal countries, no one persecutes representatives of sexual minorities," Alexeyeva told the Interfax news agency. "A modern person knows that these people are different from the rest just like a brunette is different from a blonde. They are not guilty of anything."
Russian officials have rejected the criticism. Foreign Minister Sergey Lavrov defended the bill in February, saying that Russia doesn't have any international or European commitment to "allow the propaganda of homosexuality."
An executive with a Russian government-run television network said in a nationally televised talk show that gays should be prohibited from donating blood, sperm or organs for transplants, and after their deaths their hearts should be burned or buried.
The bill's adoption comes 20 years after a Stalinist-era law punishing homosexuality with up to five years in prison was removed from Russia's penal code as part of democratic reforms that followed the 1991 collapse of the Soviet Union.