The risk of health-care reform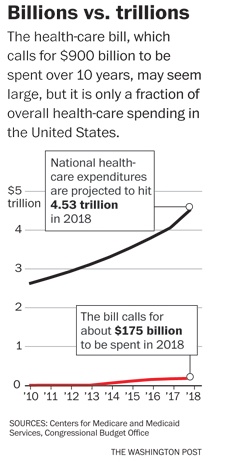 The polarizing forces of a legislative debate have a tendency to amplify the certainty of supporters and magnify the doubts of advocates. So I'd recommend Ruth Marcus's skeptical, pro-reform column. I think she actually overstates the amount of disagreement there is in the literature over whether health-care insurance saves lives (see here, here, or here for more on that), but in general, I agree with her caution.
The only twist I'd add is that the issue, in my mind, isn't so much the risk of this bill as the expectations around it. I think the cost controls are likely to work, but that's largely because they're much more modest than people realize. The bill doesn't strike me as a big "risk" insofar as the worst case is pretty much that we insure 32 million Americans and that proves somewhat more expensive than we'd anticipated. Given that the projected spending of the bill -- with no savings or revenue taken into account -- is only 4 percent of our annual spending on health care, I'd take that deal and I'll gladly sign my tax return to help pay for it. If that's the cost of a decent society, so be it.
But we're not done. Even if the bill does a better job than CBO projects, health-care costs will still bankrupt us. This is one small step for cost, one giant leap for coverage. My great hope is that the bill makes the next steps easier. But there's still no guarantee we'll take them. And the debate and difficulty Congress had passing a bill that was too small and deeply compromised has left me very pessimistic about our system's capacity to make harder decisions. The danger is not that we can't solve our problems, but that we won't. And that's the biggest risk of all.