RIM Gets RAMMED! Again... Remember That Contrarian Call 1st Quarter of 2010?
Nearly all of my calls on equity, sovereign nations and industries are highly contrarian. At first blush, I get a lot of flack, negative feedback and very little attention save that small coterie of paid subscribers whom I cater to. In the spring/summer of 2010 with RIM trading in the $60s or so, I warned that this company had defintiely seen its heyday. I put out very specific research to subscribers, including downloadable models and extensive reports. I was dismissed as having nationalistic beefs with Canadian companies (WTF???). Well, about 75% in market value loss later that short is still popping profits.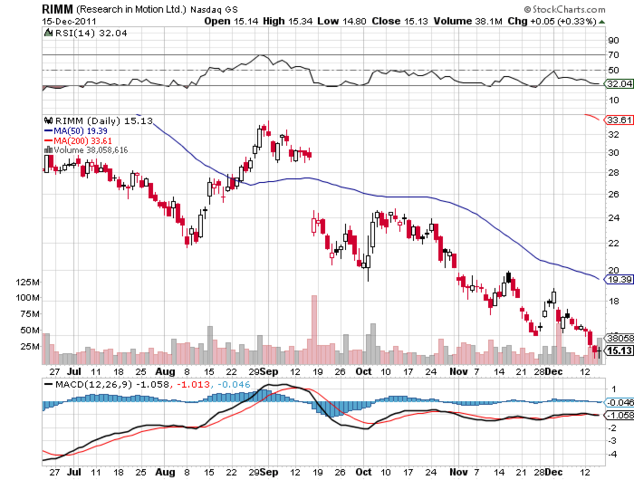 CNBC reports RIM Earnings Top Forecasts but Outlook Is Weak, as ZeroHedge parses...
RESEARCH IN MOTION 3Q ADJ. EPS $1.27
RESEARCH IN MOTION 3Q REV. $5.17B, EST. $5.22B
RESEARCH IN MOTION SEES 4Q ADJ EPS 80C-95C, EST.$1.08
RIMM SEES 4Q BLACKBERRY SHIPMENTS 11M-12M UNITS, EST. 12.8M
RIMM SEES 4Q REVENUE OF $4600-4800bn, EST. $4854.30
RESEARCH IN MOTION 3Q GROSS MARGIN 36.7%, EST. 37.1%
RESEARCH IN MOTION SEES 4Q GROSS MARGIN 38%
RIMM SHIPPED 150,000 BLACKBERRY PLAYBOOK TABLETS IN 3Q - that would be the since cancelled Playbook yes?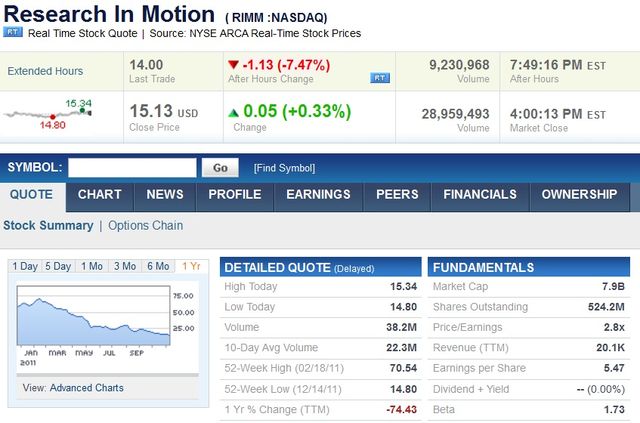 BoomBustBlog banking and tech research has been near perfect for 2010/2011. Subscribers who took advantae of this deserve kudos. To wit, and as excerpted from Another RIMM Job? It's Amazing How Many Institutions Don't Read The BoomBust!
Let's try this again: As Forecast Last Year and Clearly Demonstrated This Year, Research in Motion's Problems Are Far From Over
Research in Motion has been one of the most successful tech shorts of this blog's history (thus far). We first recommended a short last year and reiterated it in the fist quarter of this year. Reference:
This is a snapshot of RIMM as of the writing of this article...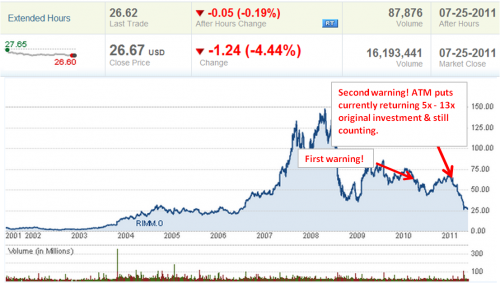 image002image002
As you can see, the results have been spectacular, particular if well timed puts have been put to use. In January I posted: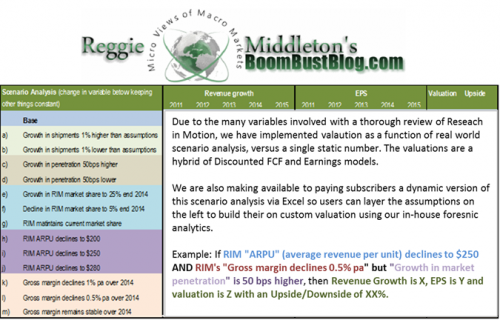 I personally see a clear leader in mobile computing becoming visible in 2012. Using options, a minimum of 2012 expiration OTM and ATM contracts can be purchase at the most optimistic break points demarcated by the model above after being populated with assumptions you feel most valid. I will have a proprietary BoomBustBlog option model available for download to paying subscribers by the end of next week, at which time we will revisit the analysis above.
A 50% drop in price later... On that note, Bloomberg reports: RIM to Cut 2,000 Jobs as BlackBerry Loses Share to IPhone



Additional RIM writings...
Now, all should sit back and watch as those other two highly contrarian calls take root:
And on the long side...
More on my opinion of Google and the liklihood that they will control smartphone mobile computing for the balance of the decade...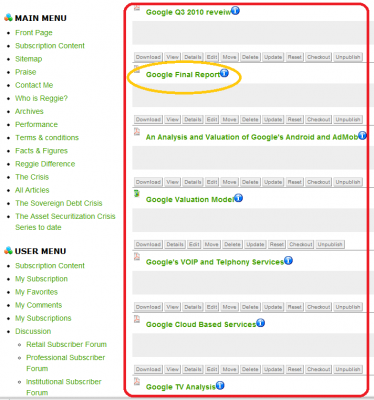 There are currently 7 Google reports available. Select the "Google Final Report" and click the "Download" button. You will receive a 63 page analysis that looks like this on the cover...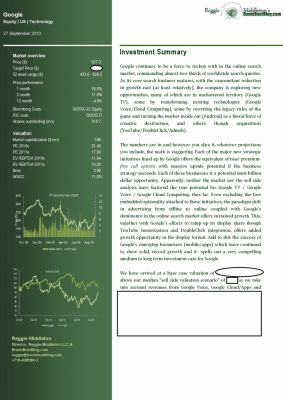 The table of contents outlines how we have broken Google down into distinct businesses and identified both the individual business models and the potential revenue streams, as well as valuation for each business line.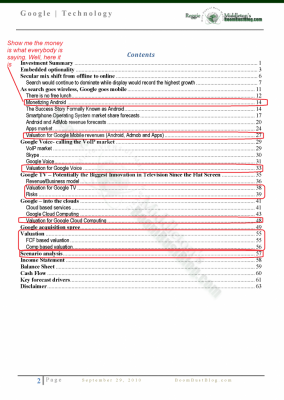 Page 57 of the analysis shows a sensitivity table which outlines the various scenarios that can come into play and how it will change our outlook and valuation opinion.


Professional/institutional subscribers can actually access a subset of the model that we used to create the sensitivity analysis above to plug in their own assumptions in case they somehow disagree with our assumptions or view points. Click here for the model: Google Valuation Model (pro and institutional). Click here to subscribe or upgrade.