Return of the Trump rally: First stop at president-elect's 'USA Thank You' tour a raucous affair
CINCINNATI – The line of Donald Trump fans eagerly waiting in the cold outside a rally venue has returned. So, too, have the "Make America Great Again" hats and campaign signs. And the vendors selling anti-Hillary Clinton buttons and T-shirts proclaiming: "Hillary for prison." And protests organized by at least three different groups, including one that calls itself "Socialist Alternative Cincinnati."
Just because the election is over doesn't mean that the president-elect is done campaigning or rallying his most devoted supporters. On Thursday night, Trump hosted his first post-election rally in a downtown arena here and kicked off what his staff is calling the "Donald J. Trump USA Thank You Tour 2016," a victory lap through states that he won.
While many presidents-elect before him have used the weeks between Election Day and Inauguration Day to promote policy ideas and reach out to Americans who voted for someone else, Trump seems intent instead on getting his base of support even more excited for his term.
For Trump, massive, rowdy political rallies – especially those held in down-on-their-luck industrial towns – were the hallmark of his candidacy. In town after town, Trump would stand at a simple lectern before thousands of screaming supporters and share his grand promises of wealth and winning, yell at protesters who dared to interrupt him, toss curse words into his comments, revengefully attack anyone who questioned him and smile as the crowd chanted "Lock her up!" or "Drain the swamp!" or "Build that wall!" Sometimes he would bring along his luxurious personal plane or his celebrity children. Other times he would pull a lucky kid from the audience onto the stage.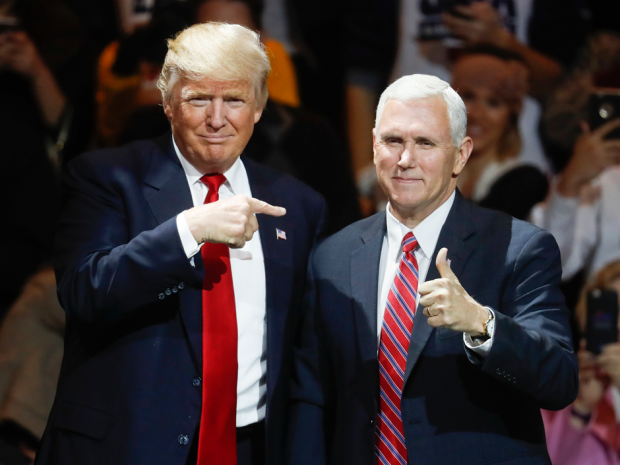 AP Photo/John MinchilloU.S. President-elect Donald Trump and Vice President-elect Mike Pence at the first stop of Trump's post-election tour, Thursday, Dec. 1, 2016, in Cincinnati.
Trump fed off the energy of these crowds and some of his happiest moments on the campaign trail seemed to be nights when he had a full house of captive listeners. But he hasn't held a rally since the night before Election Day and has instead been holed up in Trump Tower and some of his private clubs, keeping in touch with his fans via Twitter and video message.
Trump's first stop on this "Thank you" tour to salute his supporters was in Ohio and, ever the showman, he made the surprise announcement that he will be offering the post of Defence Secretary to retired Marine Corps Gen. James Mattis. Trump said he was supposed to unveil that Monday, so he jokingly warned the Cincinnati crowd to "not tell anyone."
The raucous rallies during the Trump campaign road show often had the feel of a rock concert, and Thursday night in Cincinnati had all the hallmarks of a reunion tour: Trump took a veiled swipe at fellow Republicans. He remembered his general election foe by joking, "We had fun fighting Hillary, didn't we?" He boasted about size of his victory and repeatedly bashed the media. Protesters briefly interrupted the proceedings. And the crowd chanted "Build the Wall" and "Lock Her Up."
The president-elect had eased up on those campaign promises recently, suggesting the U.S.-Mexico border wall could be part-fence and indicating no willingness to pursue criminal charges against Democratic opponent Hillary Clinton.
Perhaps befitting an encore presentation, the downtown arena that Trump packed in October — drawing a crowd that was one of the loudest of the campaign — was only about half-full Thursday night. But the thousands who were there cheered Trump as he declared to restore American to greatness, saying, "Now is not the time to downsize our dreams."
Related

"Never again will anyone's interests come before the interests of the American people. It's not going to happen," Trump thundered. "The old rules no longer apply. Anything we want for our country is now possible."
Trump did nothing to downplay expectations before he takes office, declaring that "America will start winning again, big league." Much like he did during the stretch run of the campaign, he read from teleprompters, but he was bombastic as ever, spending more than a dozen minutes bragging about his victory before outlining his economic plan.
He boasted about his wins in Midwest states that normally vote Democratic, declaring he didn't just "break the blue wall, we shattered it." He veered off-script to make fun of a protester, saying she was being ejected from the arena so "she could go back to Mommy." He repeated his recent threat that, despite constitutional protections, "if people burn the American flag, there should be consequences." And he repeated many of his signature campaign promises, including a pledge to "construct a great wall at the border."
And he stunned his own aides when he announced the Mattis pick from the stage. Mattis, nicknamed "Mad Dog," is considered one of the foremost strategic thinkers of his generation but to gain confirmation as Pentagon chief, he would need Congress to waive a requirement that a defence secretary be a civilian for at least seven years before taking up the post.
Mattis retired as chief of U.S. Central Command in 2013 after serving more than four decades in the Marine Corps. There is no sense of strong opposition to his nomination in Congress.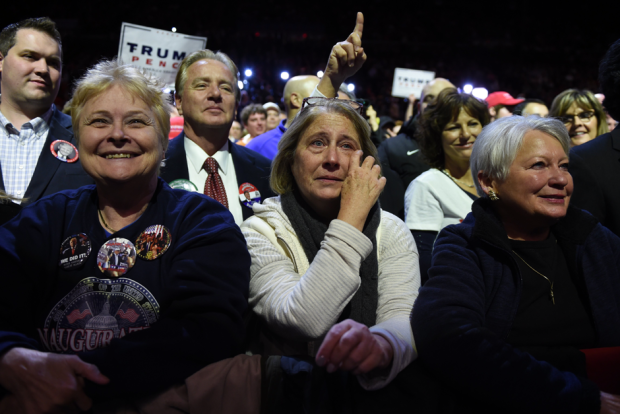 Timothy A. Clary/AFP/Getty ImagesSupporters of U.S. President-elect Donald Trump watch as Vice President-elect Mike Pence speaks during a "USA Thank You" tour event, Thursday, Dec. 1, 2016, in Cincinnati.
Trump, who has long spoken of feeding off the energy of his raucous crowds, first floated the idea of a victory tour just days after winning the election but has instead prioritized filling Cabinet positions. He is also expected to hold rallies in Pennsylvania, Florida, North Carolina and Michigan in the coming weeks, though details have yet to be announced. His supporters were thrilled that he had hit the road again.
"That he wants to do this, to take time out of his schedule to fly out here and personally thank the people … shows what kind of man he is," said Josh Kanowitz, 43. "He's one of us."
But while Kanowitz largely praised Trump's initial moves as president-elect, he visibly recoiled at the suggestion that he might pick Mitt Romney as secretary of tate, saying the 2012 Republican presidential nominee was "someone we should leave behind as we move forward."
Others at the rally also expressed some hesitancy at Trump's picks, with a few suggesting that choosing former Goldman Sachs partner Steven Mnuchin as Treasury Secretary was not exactly fulfilling Trump's campaign promise to "Drain the Swamp" and eliminate corruption and elitism from Washington.
But most were inclined to give the president-elect the benefit of the doubt.
"He's a businessman. He'll pick talented people to work for him and then keep them in line," said Jaime Bollmer, a 28-year-old teacher from Lockland, Ohio. "He's a leader. That's what leaders do."