Retroactive Ranking of JFK
Via Kevin Drum, Gallup asks America to look back at recent presidents: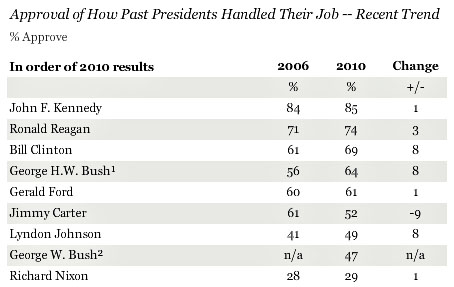 The high marks given to George HW Bush are interesting. The dude left office after getting a pathetic 37 percent of the vote, shattering the once-dominant Reagan coalition, and was immediately repudiated by his party's base. And yet, I guess I agree with the American people—he did a decent job of things.
The sky-high ratings for JFK, while not at all surprising, are a reminder of a kind of fascinating anomaly in how we think of American history. If you look at the Kennedy/Johnson administration as a single unit you have the following:
1. A hugely successful progressive agenda that utterly and enduringly changed American society for the better. That's the Civil Rights and Voting Rights Act, it's Medicare, it's Medicaid, and it's also the oft-overlooked Elementary and Secondary Education Act.
2. A disastrous war in Vietnam that killed far, far, far more people than the misadventure in Iraq plus some serious violations of civil liberties.
3. A ton of smaller-bore lefty stuff that wasn't popular and got rolled back.
It's a bit hard to know what one should say about this JFK/LBJ record and there's no particular reason to think that Kennedy and Johnson had any substantial disagreements about it. But since Kennedy was murdered, it's possible to kind of fudge the history and create a mythic Kennedy figure who's associated with all the parts of Sixties Liberalism that people like, cleansed of all the other stuff.