Research Desk responds: Do conservative states get more federal money?
By Dylan Matthews
joemomma1 asks:
Is it true that more conservative states receive a larger percentage of money for social programs?
Andrew Reamer and Rachel Blanchard Carpenter at Brookings have helpfully broken down federal aid in Fiscal Year 2008 by state. It's not really useful to graph 50 data points, so hop over there to see specific states' numbers. First, I took the average amount of federal aid given to states won by Obama in 2008 versus those won by McCain. The Obama state average ($11,097,466,205.93) dwarfs that of the McCain states ($8,579,954,939.86), but that is to be expected, given that McCain's states tend to be smaller, and this measure does not take population into account. So I instead averaged the per capita aid given to each candidate's states. Here's the result: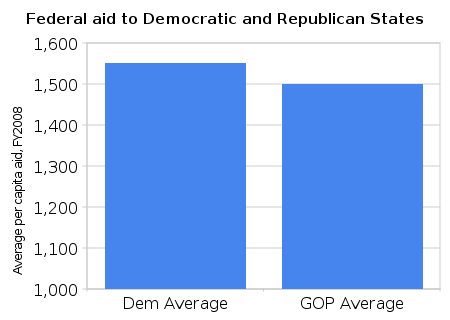 There's a small advantage for Democratic states, but nothing dramatic. Now, one might object that the 2008 election was exceptional, with many normally conservative states turning blue. So here is the same measure done with the state breakdown from the 2004 election: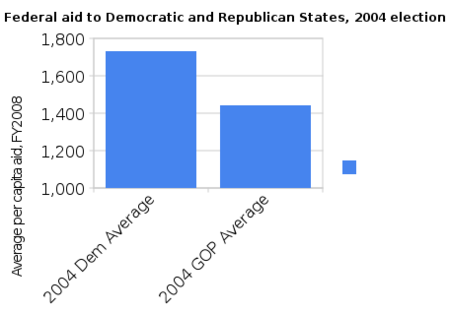 While that may look dramatic, it is important to remember that a lot of federal aid to states -- Medicaid, welfare, education funds -- go disproportionately to poor cities, and Democratic states tend to be more urban than their Republican counterparts. So while joemomma1 was incorrect in thinking that Republican states receive more, on average, from the federal government, it is hard to view the discrepancy that is there as all that significant.





United States - John McCain - Government - Politics - Arizona