Research desk explains: How effective would deficit-neutral stimulus be?
By Dylan Matthews
In the Wall Street Journal the other day, Princeton economist Alan Blinder had an interesting idea for bypassing deficit concerns to get stimulus measures passed. Blinder proposed letting the Bush tax cuts for high earners expire early, providing $75 billion in new revenue over the next two years, and using that money to fund unemployment benefits extensions. Using the "bang for the buck" measurements (PDF) of stimulus policies produced by Moody's Mark Zandi, Blinder estimated this would add almost $100 billion to GDP over those two years.
This is a sensible measure, but Zandi's data -- the methodology of which I get into in some depth here -- shows the impact of spending on various stimulus measures apart from unemployment benefit extension. What would be the GDP impact of spending the Bush tax cut revenue on those measures?
I used the same back-of-the-envelope math as Blinder to compute the result. Zandi finds that extending the Bush tax cuts has a stimulus multiplier of 0.32, which is pretty weak. Extrapolating from that, repealing $75 billion worth of them early should reduce GDP by about $24 billion. We can then use the bang-for-buck measures of different stimulus policies to see what effect spending $75 billion on each would have, and then subtract that $24 billion figure to see what the impact would be if coupled with early expiration of the tax cuts. All of the policies listed here are pretty straightforward, except the combined unemployment benefit and food stamp item, which takes $33 billion to pay for the soon-to-pass unemployment benefit extension this year and uses the rest to fund expanded food stamps. Here's what the impact of each looks like: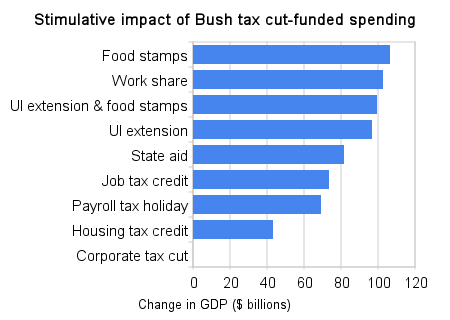 While the housing tax credit is relatively weak, and a corporate tax cut has no effect at all, every other stimulus policy, coupled with lifting some of the tax cuts, produces real stimulus. These are rough numbers, but they do suggest that effective, deficit-neutral stimulus policies are possible.





United States - Taxation - Mark Zandi - Alan Blinder - Accounting