Religious leaders protest Manitoba bill that would force faith-based schools to allow gay-straight alliances
More religious leaders have joined opposition to Manitoba's proposed anti-bullying law, saying religious schools must not be forced to accommodate groups that promote equality for gays and lesbians.
"Orthodox Judaism believes in the sanctity of the Bible that rejects homosexuality, as do other great religions," reads a letter to Premier Greg Selinger by Rabbi Avrohom Altein of Winnipeg.
"It would be the height of intolerance to ban a religious group from teaching and practising as it believes."
Bill 18 is aimed at preventing bullying in schools and promoting equality based on gender, race, sexual orientation and other factors. A section that would require schools to allow gay-straight alliance groups if students wished to establish them has drawn the most criticism.
The bill has already come under fire in Steinbach, a small city with a strong Mennonite population. About 1,200 people attended a recent meeting in opposition to the proposed legislation.
Related

Rex Murphy: Choosing self-esteem over freedom of speech
The power of hate: A legal primer on this week's Supreme Court ruling against William Whatcott
Andrew Coyne: Tom Flanagan, Supreme Court both got free speech wrong, but in different ways
A similar bill caused controversy last year in Ontario when Catholic church leaders said their religious freedom was being compromised. However, it eventually passed last June.
Altein's letter was released Friday by Conservative MP Rod Bruinooge, along with letters from Muslim, Sikh and Coptic leaders.
Bruinooge said there is "a very wide group of faith communities" opposed to the bill.
However, some pastors and ministers have publicly stated they support the bill.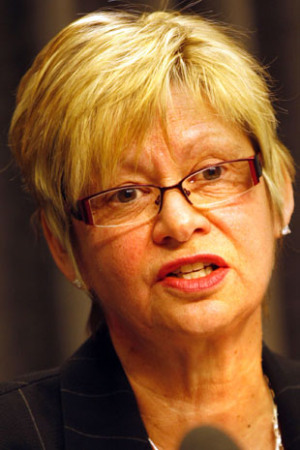 Ken Gigliotti / POstmedia News filesEducation Minister Nancy Allan said Friday she will not back down.
Education Minister Nancy Allan said Friday she will not back down.
"We know clearly that young people need to be protected in this particular area. We know clearly that young people who are gay have higher rates of depression and mental health issues, they talk about suicide, they are harassed and bullied," she said.
Allan said a gay-straight alliance is simply a venue in which students can share their feelings and get support.
"You're just providing a space for young people to talk."
But Altein said a gay-straight alliance would be the same as a group demanding non-kosher food in school.
"It would be wrong for a student of an Orthodox Jewish school to demand the right to eat a lunch of non-kosher food such as pork. It would be even more disrespectful for students to form an official group within the Jewish religious school to advocate for the 'right' to eat pork."
A letter from Ismael Mukhtar, president of the Manitoba Islamic Association, said Bill 18 "infringes on our constitutionally protected right of freedom of religion."
The debate over the bill will come to a head in the spring, when a legislature committee holds public hearings on the legislation.
Liberal Leader Jon Gerrard, who holds the party's only seat in the legislature, has yet to take a position on the bill.
"I personally believe that gay-straight alliances are a good thing, but I'm ready to listen to people who want to make a case on whichever side at the committee stage," he said.
"And I think it's important to be open to people and to get input."