Is Reid's energy bill worse than no bill at all?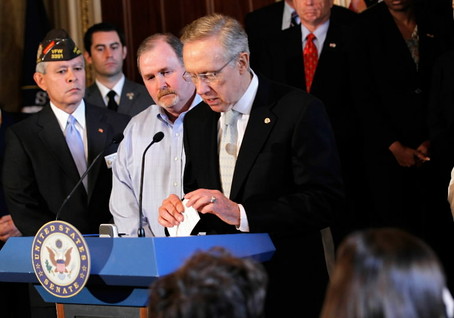 Harry Reid has called for an "energy bill" by July. But it's not the energy bill we've been waiting for. It not only lacks a price on carbon, but as Brad Plumer explains, it makes it harder to ever get one:
Earlier today, Chuck Schumer was on MSNBC and said that the legislation Reid was assembling would resemble the (weak) energy-only bill passed by Jeff Bingaman's committee back in June. In other words, there'd be some renewable-power mandates, some incentives for nuclear, some funds to kick-start new transmission lines, and some new regulations on oil companies. If Kerry and Lieberman want to tack on a cap-and-trade scheme on top of all that, Schumer said, they'll "get a chance to add it in the form of an amendment."
If Schumer's right, this would certainly lower the odds that Congress will pass a carbon-pricing scheme this year. The logic behind combining everything into one big bill, as Kerry and Lieberman did, was so that the items that were popular with senators (like oil regulations or financial support for nuclear utilities) were mashed together with the unpopular items (cap-and-trade), and there'd be one big up-or-down vote on the whole enchilada. If energy and climate get separated out, then it's less likely the latter can survive.
In other words, if you give away the popular stuff that would've helped a climate-change bill get through now, you're not likely to be able to get a climate-change bill through later.
Photo credit: Alex Wong/Getty Images.





Harry Reid - Climate change - United States - Environment - Senate