Re-Litigating The Stimulus
Karl Smith wants to relitigate the debate over the American Recovery and Reinvestment Act: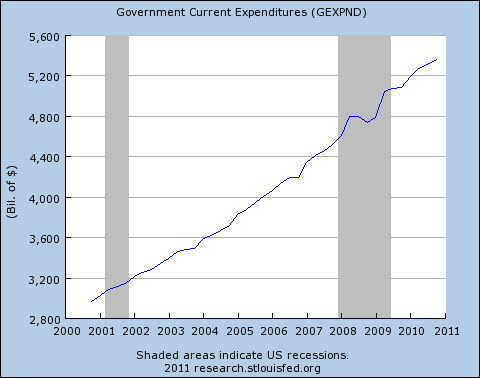 Now, in contrary I don't think Obama should have started with a number for spending – though that would have been preferable to what happened.
I would have started with a much higher number for tax cuts. Indeed, "the stimulus" could have been exclusively tax cuts and much much bigger ones. As I floated before, there was the possibility of simply suspending the payroll tax entirely.
I think this proposal gets at what I've (creatively!) called the trouble with fiscal stimulus. The two best ways to implement discretionary fiscal stimulus on a timely, scalable basis are general revenue sharing with state and local governments and payroll tax cuts. But the progressive coalition would fear (not unreasonably) that tax cuts tend not to stay temporary (see how Republicans and moderate Democrats felt about the expiration of the Bush tax cuts) so any such measure would merely increase the pressure for Social Security cuts. Meanwhile, the conservative coalition would fear (also not unreasonably) that bailouts of state and local government would fuel growth of the overall public sector. The state/local budget crisis is a disaster for macroeconomic stability, but it's a huge opportunity for people who think there's a lot of waste in state/local government as witnessed not only by Republicans like Chris Christie and Scott Walker but also by Andrew Cuomo and Rahm Emanuel.
The underlying pathology here is a total lack of political consensus about the appropriate size of the public sector that makes it impossible for anyone to credibility commit to temporary fiscal policy measures. Progressives accurately suspect conservatives of welcoming budget disasters as a tool for forcing program cuts and conservatives accurate suspect progressives of wanting to use stimulus as a vehicle for funding programmatic expansions we favor on the merits. Countries like Germany and Sweden who entered the recession with more consensus about the size of the public sector ended up with more net stimulus despite less Keynesian political cultures.
What's desperately needed is a systematic reform of state/local budget procedures so that macroeconomic stabilization is less hostage mid-crisis congressional bargaining.