A Public Option for Consumer Finance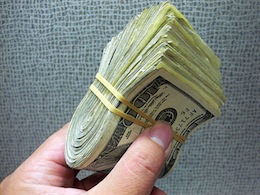 Mike Konczal offers what I think is the right solution to the credit card regulation debate, public provision of basic consumer credit:
That said, I'm not sure what the solution is. A government-public-option postal savings account mechanism strikes me as much better than trying to micro-manage these firms. I wonder if just letting Wal-mart become a bank would solve this problem. Micro-managing is difficult if only because those on the other side are smart and, frankly, quite willing to exploit. They'll always be one step ahead, so a pure regulation response is difficult to do. But this is what motivates my case here.
Steve Randy Waldmann outlined a nice proposal for this recently:
In fact, while transactional credit provision is a perfectly good business, it might be reasonable for the state to offer basic transactional credit as a public good. This would be very simple to do. Every adult would be offered a Treasury Express card, which would have, say, a $1000 limit. Balances would be payable in full monthly. The only penalty for nonpayment would be denial of access of further credit, both by the government and by private creditors. (Private creditors would be expected to inquire whether a person is in arrears on their public card when making credit decisions, but would not be permitted to obtain or retain historical information. Nonpayment of public advances would not constitute default, but the exercise of an explicit forbearance option in exchange for denial of further credit.) Unpaid balances would be forgiven automatically after a period of five years. No interest would ever be charged.
Let's think about how this would work. For most people, access to various forms credit — transactional credit, auto and home loans, unsecured revolving credit, whatever — is worth more than $200 per year. Although people might occasionally fall behind, for the most part borrowers would pay off their government cards, simply because convenient participation in the economy is worth more than a once-in-five-years $1K windfall. However, people with no savings and irregular income (for whom transactional credit is a misnomer, since they haven't the capacity to pay) might well take the money and run. The terms of the deal amount to a very small transfer program to the marginal and disorganized, and a ubiquitous form of currency for everyone else. People with higher incomes would want more transactional credit, or revolving credit, which they would acquire from the private sector.
This would basically decouple the convenience of paying with plastic from participating in a marketplace whose business model is heavily focused on bilking the customers. Private provision of credit cards would, of course, still be an important business segment aimed at wealthier people and things like the corporate credit card market.
I also agree with Konczal that as a much more modest step, getting regulators to let Walmart get a banking license should at least ameliorate some of the problems we see in the credit card market, just as Walmart's entry into the check cashing business has done some good. Fundamentally these are problems of lack of competition.