Psychological Damage From Radioactive Accidents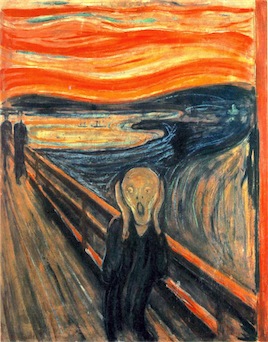 According to an interesting Rob Stein article that ran a week ago in the Post, in past nuclear mishaps the psychological impact of the radiation leak has arguably done more damage than the radiation itself:
Although radiation escaping from a nuclear power plant catastrophe can increase the risk of many cancers and other health problems, stress, anxiety and fear ended up in many ways being much greater long-term threats to health and well-being after Chernobyl, Three Mile Island and other nuclear accidents, experts said Monday.
"The psychological effects were the biggest health effects of all — by far," said Fred Mettler, a University of New Mexico professor emeritus and one of the world's leading authorities on radiation, who studied Chernobyl for the World Health Organization. "In the end, that's really what affected the most people."
Fears of contamination and anxiety about the health of those exposed and their children led to significantly elevated rates of suicidal thinking and anxiety disorders, and rates of post-traumatic stress disorder and depression about doubled, Mettler and others said.
"The effect on mental health was hugely important," said Evelyn Bromet, a professor of psychiatry at Stony Brook University who studied the aftermath of Three Mile Island and Chernobyl. "People's fears about getting cancer, or their children getting cancer, and family and friends dying from radiation exposure were very intense."
That's not to say that radiation is benign. Obviously, it's not. But people have a much more intense fear of radiation than they do of other comparably damaging environmental carcinogens and the long-term impact of that fear can be extremely damaging. The articles make it seem that it's imperative for the Japanese government to maintain its credibility during the crisis so that it can become a provider of accurate information once the immediate disaster is passed. But beyond that, I'm not really sure what you're supposed to do about this. Certainly I'd be freaked out if I lived near a nuclear accident and reading that my own psychological dread of the radiation could be more dangerous than the radiation itself would likely only make me even more neurotic about it. Maybe they should hand out the Bene Gessrit litany against fear on postcards.