Private-sector job growth doesn't look great, either
Last month, David Leonhardt was fairly positive on the jobs report even as many others were negative. This month, he isn't. "The economic recovery has lost significant steam in the last few months," he writes, and as evidence, points to the same indicator that the administration used as a basis for optimism: private-sector job growth. As the administration pointed out, compared with last month, it's up. But as Leonhardt pointed out, compared with the recent trend, it's down: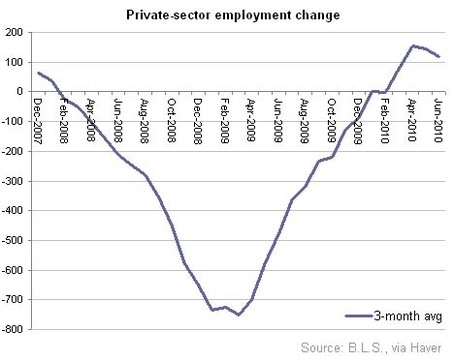 And there's some chance that those numbers actually overstated. Peter Newland of Barclays Capital looked at the numbers and said they suggested that "there had been some substitution away from the private sector and into temporary census jobs in recent months. For example, leisure and hospitality (an area that may naturally compete for the same short-term hires) jumped by 37,000 in June, having fallen by 7,000 in May." In other words, private-sector employment might've been boosted by the end of the census jobs.
"If the Senate and the Federal Reserve were waiting for more information to decide whether the economy needed more help," concluded Leonhardt, "they just got it."





Employment - Business - Government - Job Search - United States