The Price of School Lunch
Alice Walton has a good piece about efforts to improve school lunch in New Haven. The need to stick to a $2.50 per meal level of cost is an obstacle:
Today, public and nonprofit private schools from preschool through high school are eligible to receive federal reimbursement for the cost of the dining programs, and certain foodstuffs are provided by the U.S. Department of Agriculture (USDA). These reimbursements cover the cost of students who qualify for a free lunch—in New Haven, that's 80 percent of students in public schools—but they do not add up to much. The USDA pays New Haven $2.50 for every free meal they serve. The small sum is intended to cover the cost of overhead, personnel, and ingredients for a healthy, filling lunch. [...]
So are the school lunches in New Haven healthy? Nutrient content of school lunch food is closely regulated by the federal government. Schools have to meet certain criteria to receive any reimbursement for the lunch. But the rules state quotas not for fruits and vegetables but for vitamins, which can be filled by just about any fortified food. This eases the budget issue for districts that are not focused on the nutritional value of their lunches.
Unfortunately, though the evidence that healthy eating makes a big difference to health is strong, the evidence for the health properties of specific foodstuffs—vegetables and whole grains especially—is much stronger than the evidence in favor of isolated vitamins. Meanwhile, research from the UK indicates that healthier lunches lead to substantial gains in student achievement. If you could actually devise substantially healthier lunches at $3.50 a pop, the return on investment would be substantial.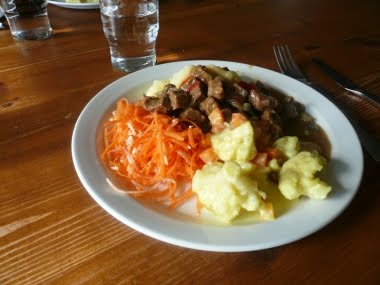 In Finland (depicted above) the principle is that a student's plate should be 50 percent vegetables. The results, which I've eaten, aren't necessarily any tastier than American school lunch but they are more nutritious. Beyond funding levels, however, the basic shape of the problem is that the federal school lunch program is largely "owned" at the congressional level by the food producers rather than by the parents of poor kids.