Preview of March 15 FOMC meeting
Article written by Prieur du Plessis, editor of the Investment Postcards from Cape Town blog.This post is a guest contribution by Asha Bangalore, vice president and economist at The Northern Trust  Company.The March 15 FOMC meeting is nearly certain to end with no change in the Fed's current monetary policy stance with an indication that it would continue the second round of quantitative easing.  Market participants are keeping a close eye on the policy statement to assess if there is a shift in the Fed's view.  A change in the Fed's outlook, if any, will be visible if the phrase "exceptionally low levels for the federal funds rate for an extended period" is modified.  Differences of opinion within the policy making committee about the quantitative easing program, involving a purchase of $600 billion Treasury securities, suggest a contentious debate.  In addition, an exit plan should be part of the agenda.Markets are curious if the Bernanke Fed will adopt the language of the European Central Bank (ECB).  Trichet has taken a hawkish stance and indicated that the ECB should remain "strongly vigilant."  In the past, this type of rhetoric has been a precursor of higher policy rates in the near term in the Euro area.  Trichet's stand hangs on the headline inflation numbers; inflation in the Euro area is running a tad above target (2.3% vs. 2.0% target).  By contrast, the personal consumption expenditure price index puts inflation in the U.S. at 1.2% and the core personal consumption expenditure price index shows a year-to-year increase of only 0.8%.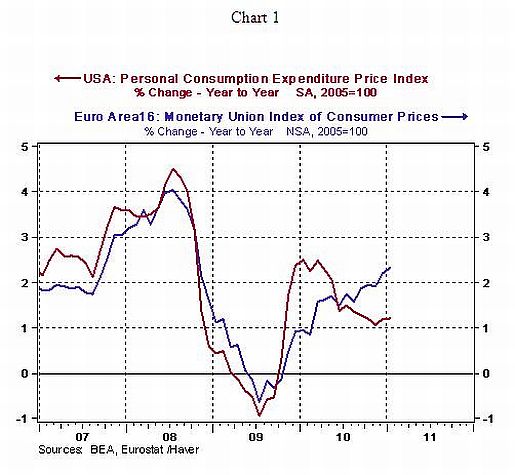 The Fed emphasizes inflation expectations as important input in the formulation of monetary policy.  Inflation expectations have moved up since September 2010 in light of the economic recovery that is underway and the upheaval in the Middle East and North Africa has provided an additional lift to recent readings (see Chart 2) but the levels are within acceptable ranges and are close to readings seen prior to the onset of the financial crisis.  In fact, inflation expectations as measured by the difference in the 5-year nominal Treasury note yield and the 5-year inflation protected security dropped to 2.17% on March 11 from 2.24% on March 4.  In terms of price indexes and inflation expectations, the Fed can justify the current easy monetary policy stand.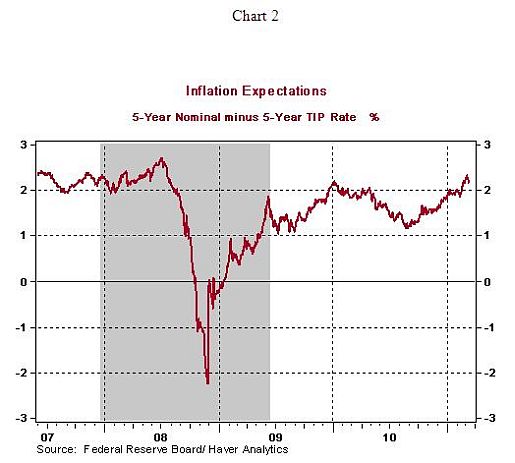 Recent geopolitical issues present a threat to self-sustained economic growth.  Budget cuts will setback GDP growth; although small, it is still a negative influence.  Also, higher oil prices will have consumers rearranging their expenditure plans to accommodate higher energy prices.  Overseas, the Japanese misfortune could raise oil prices further; the continued turmoil in the Middle East and the debt crisis of Europe are additional sources of concern.  All of these factors and the 8.9% jobless rate are sufficient evidence to make a case for unchanged monetary policy, despite other economic indicators (retail sales, ISM surveys, declining jobless rate) pointing to improving economic conditions.Source: Asha Bangalore, Northern Trust, Daily Global Commentary, March 14, 2011.Did you enjoy this post? If so, click here to subscribe to updates to Investment Postcards from Cape Town by e-mail.Preview of March 15 FOMC meeting was first posted on March 15, 2011 at 8:30 am.©2011 "Investment Postcards from Cape Town". Use of this feed is for personal non-commercial use only. If you are not reading this article in your feed reader, then the site is guilty of copyright infringement. Please contact me at wordpress@investmentpostcards.comFeed enhanced by the Add To Feed Plugin by Ajay D'Souza