Presidential upset: Before Donald Trump, three times when U.S. presidents proved the polls were wrong
The rumours of his demise were greatly exaggerated.
Donald Trump was voted in as the 45th U.S. president on Tuesday, despite national polls having him at a disadvantage as great as 12 per cent in late October.
Trump insisted for weeks that the polls were inaccurate, going as far as saying they were "purposefully wrong" and that they were "rigged." The president-elect claimed his support would show itself on election day — and it did, allowing him to capture 276 electoral votes. No presidential candidate had ever gone to win the White House after being that far behind in late polls. Before the votes started rolling in, the New York Times gave Clinton an 85 per cent chance of winning. The Huffington Post went as high as giving the former secretary of state a 98.3 per cent chance of winning.
Related

'We've seen epic fails:' Why did the bulk of polls get U.S. election predictions so very, very wrong?
U.S. election results driven by simmering discontent of voters: Lessons from the exit polls
But this isn't the first time the polls had it wrong. Gallup, a U.S. pollster, has been gathering data on voter preferences since the 1936 presidential election. In the last 20 elections, there were three cases where polls conducted as late as October had it wrong.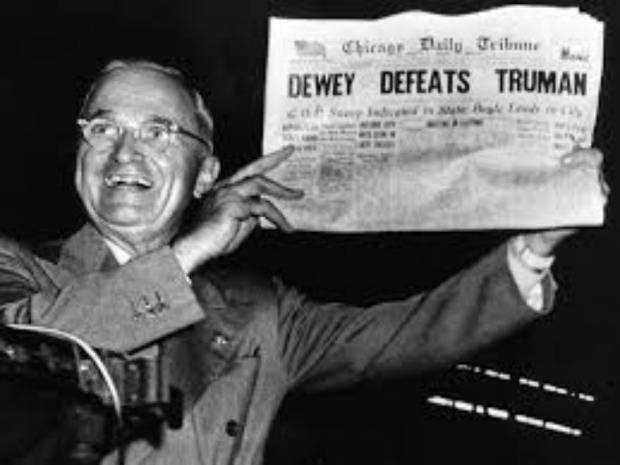 SuppliedAmerican president Harry S. Truman in famous photo from 1948 when his Republican rival Thomas Dewey was prematurely declared the winner by several major publications, but lost.
Harry Truman vs. Thomas Dewey, 1948
To be fair, everyone had this one wrong, even the newspapers.
Democrat Harry Truman pulled off perhaps the greatest upset in the history of American presidential elections when he defeated Republican Thomas Dewey by more than four per cent of the vote.
Truman had been widely written off in the race and in October and Gallup predicted a Dewey win with 50 per cent of the popular vote. Earlier polls had Dewey winning by a margin as great as 49 per cent to 36 per cent.
Taking the predictions into account, the Chicago Daily Tribune printed its early edition for Nov. 3, 1948 with the headline "Dewey defeats Truman." The paper was forced to go to print before the results of the election were known because of a printer's strike. With a Dewey win being widely expected, the headline was boldly printed on the front page.
After 150,000 copies were printed, the results began to pour in showing a closer race than what was predicted. The Tribune managed to change the headline for its second edition, but the error would go down in history. Two days after being voted in as president-elect, Truman, who the paper once referred to as a "nincompoop," held the first edition and posed for a now famous photo.
Since then, Truman has been a spirit animal of sorts for nominees — including Trump — who were down early in the polls and holding on to belief.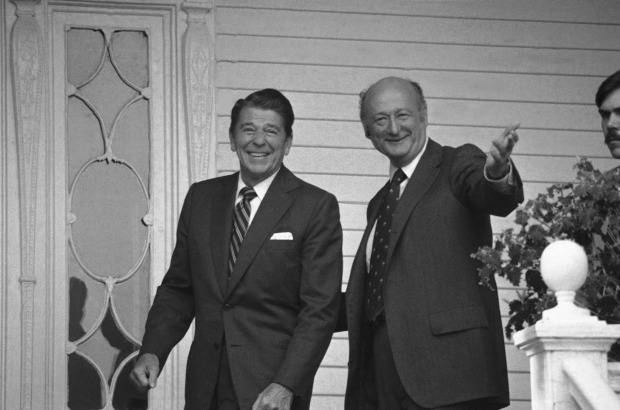 AP Photo/Dave Pickoff, FileIn this Oct. 17, 1980, file photo, New York Mayor Ed Koch gestures as he escorts Republican presidential nominee Ronald Reagan into Gracie Mansion in New York. Koch, the combative politician who rescued the city from near-financial ruin during three City Hall terms, has died at age 88. Spokesman George Arzt says Koch died Friday morning Feb. 1, 2013 of congestive heart failure.
Ronald Reagan vs. Jimmy Carter vs. John Anderson, 1980
Trump may have taken out a $94,000 attack ad in the New York Times in 1987 to tear apart Reagan's foreign policy, but now he invokes the Republican president to defend his own ideas about trade and heavy tariffs. When the polls began to show that Trump was trailing Clinton in April, the real estate magnate remembered Reagan's example, saying that he too was behind in the polls before surging to victory.
Unlike the 2016 election, the one in 1980 had three strong candidates. Reagan, a Republican, faced stiff competition in Democratic candidate, Jimmy Carter, and independent candidate, John Anderson.
A Gallup poll in April 1980 had Reagan (36 per cent) trailing Carter (45 per cent) by nine percentage points, while Anderson claimed the remaining 19 per cent. But through the next few months, Reagan began to recover in the polls, often exchanging early victories with Carter. In late October, Gallup gave Carter a 44-40 per cent advantage.
Reagan would go on to win in a landslide, securing 50.8 per cent of the popular vote and beating Carter by 9.8 percentage points. Anderson only finished with 6.6 per cent of the vote. Once a massive underdog, Reagan rode his popularity to a second term by thrashing Walter Mondale in the 1984 election.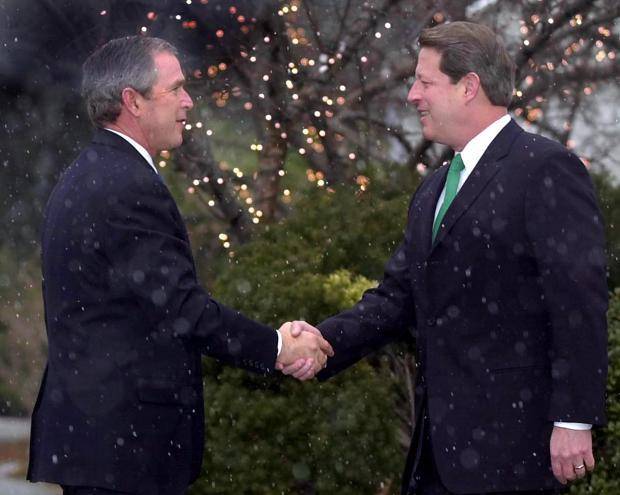 TANNEN MAURY/AFP/Getty ImagesVice president Al Gore (R) shakes hands with President-elect George W. Bush at Gore's residence as snow begins to fall in Washington, DC 19 December 2000.
George W. Bush vs Al Gore, 2000
Early polls in this race actually showed a lopsided victory for Democratic nominee Al Gore. In September, Gore held a 10 per cent lead over Republican nominee George W. Bush in a Gallup poll. That lead would evaporate in October when Bush completely turned the popular vote around and according to a poll that put him ahead by 11 percentage points.
In their last poll, Gallup predicted Bush would win 48 per cent of the vote compared to Gore's 46 per cent. They were wrong. Bush lost the popular vote by 0.5 percentage, but still won the White House in a finish that no pollster could predict.
Television networks had called a Gore win in the state of Florida, giving him enough electoral votes to win the election. The call was made with an eye on the exit polls, but the race was closer than originally thought. Only 537 votes separated the two candidates in the swing state and by 2 a.m., when the votes had been counted, the television networks had gotten the call wrong. Bush was named the winner of the state and true to its name, Florida swung the election in the Republican's favour. A machine recount narrowed Bush's lead to 300 votes and there were questions about punch card ballots spoiling votes.
Gore and Bush eventually brought the matter to court. More than one month after the votes were cast, Bush was finally declared the official winner after the Supreme Court rejected Gore's pleas for a recount. Bush would serve for two terms — between 2000 and 2008 — and would be known for leading the U.S. into the Afghanistan and Iraq wars.