President Trump attacks John McCain, NFL players, and Steph Curry in wild Saturday — here's the rundown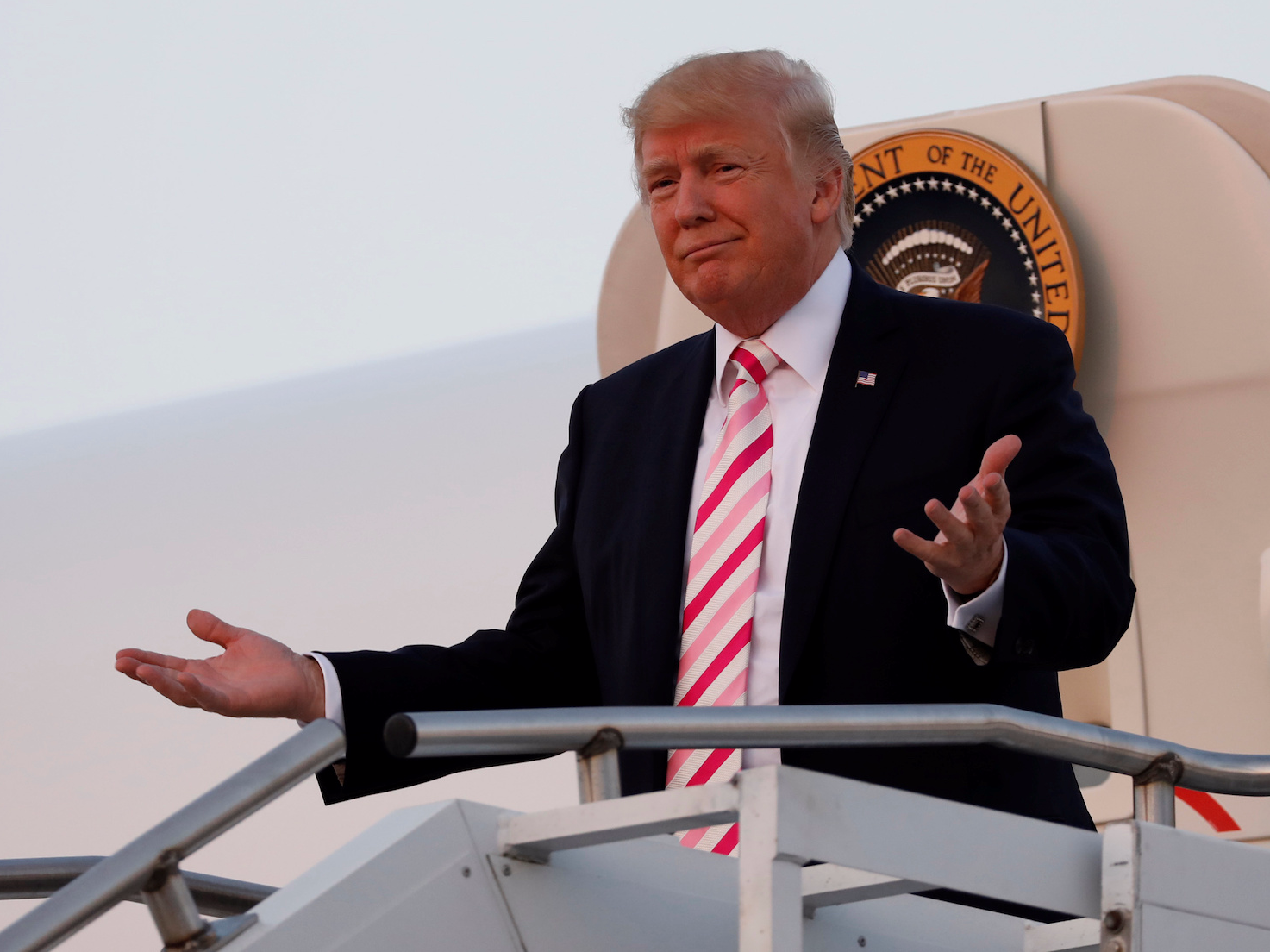 Aaron Bernstein/ReutersWhat a day.
President Donald Trump was active on Twitter Saturday, sparking confrontations with major figures in two different professional sports leagues, attacking Sen. John McCain for his announcement that he will vote against the newest GOP healthcare bill, and leaning on other Republicans to support the healthcare plan.
Here's a rundown of Trump's busy Saturday:
Trump on McCain and the Graham-Cassidy healthcare bill: Trump started the day by attacking McCain, who announced Friday he would not vote for the newest GOP Obamacare repeal bill. "He campaigned on Repeal & Replace," Trump said. "Let Arizona down!" The president also leaned on Sens. Lisa Murkowski and Rand Paul to vote for the bill.
Trump on Steph Curry and the Golden State Warriors: Trump tweeted that the Warriors were no longer invited to the White House after star player Steph Curry said he didn't want to attend during an interview on Friday. "Going to the White House is considered a great honor for a championship team," Trump tweeted. "Stephen Curry is hesitating,therefore invitation is withdrawn!
NFL commissioner Roger Goodell responds to Trump's attacks on the league: After Trump attacked NFL players protesting the national anthem and what he considered soft play in the league, commissioner Roger Goodell issued a statement Saturday morning calling Trump's comments "divisive." A slew of NFL players took to Twitter to fire back at Trump as well.
NBA star LeBron James calls Trump a "bum" on Twitter: "U bum @StephenCurry30 already said he ain't going! So therefore ain't no invite," tweeted James, the three-time NBA champion. "Going to White House was a great honor until you showed up!"
Trump goes after NFL players protesting the anthem again in tweetstorm: Trump said if players don't stand for the anthem they should be fired. "Find something else to do!" said the president.
The Golden State Warriors respond to Trump's tweet: In a statement, the Warriors said they "accept that President Trump has made it clear that we are not invited" to the White House.
And if that wasn't enough, there was even more news:
North Korea: Trump is 'a mentally deranged person' whose insults make the possibility of a nuclear strike on the US 'inevitable'
A third earthquake with a 6.2 magnitude just hit Mexico, sending thousands into the streets
Carmelo Anthony traded to the Oklahoma City Thunder
Championship UNC men's basketball team will not visit the White House
Colin Kaepernick's mom responds to Trump's criticism of NFL players: 'Guess that makes me a proud b----!'
NOW WATCH: Steve Bannon: Firing Comey was the biggest mistake in 'modern political history'