The power of habit
Charles Duhigg has a very interesting new book called The Power of Habit: Why We Do What We Do in Life and Business.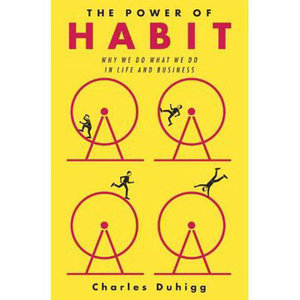 Duhigg observes that we get through each day with assistance from any number of routines, that is, sequences of thoughts or actions that we can carry out more or less automatically once we hit the begin key. Simple acts like brushing your teeth or buttoning your shirt challenge a young child but not an adult, not because we older folks are so much more agile, but because we've learned to carry out these tasks without even thinking about what we're doing.
Many of our habits are quite helpful and essential for getting through the day. But we also form other habits, to which we may pay no more attention than we do to buttoning a shirt, that can end up profoundly shaping our character or destiny. Some of these may work to our benefit, such as exercise or good nutrition, but others can be incredibly destructive, such as drug abuse, overeating, gambling addiction, or smoking.
Duhigg suggests that if you want to change your habits, the key is to become aware of exactly how they work. His key principle is the habit loop. There is a certain cue that sets the subsequent chain off, and then a confirmation or reward when the loop is completed. He suggests that the way to change a habit you don't like is to become aware of the cue that sets the sequence off, and substitute another more constructive routine in place of the old. He argues that traditional addiction treatment programs such as the Twelve Steps of Alcoholics Anonymous are making use of this basic principle.
Duhigg also has a number of very interesting examples of how businesses have made use of the habit loop in successful marketing campaigns, football coaches to help their team perform better, generals to help a military campaign succeed, and a corporation to reform its character.