Portugal's Debt Will Be Restructured; 3-Year Government Bond Yield Tops 25%; CDS at Record High, Implies 72% Chance of Default
Inquiring minds are watching Portuguese government bonds soar into the stratosphere, with record-high bond yields across the entire yield curve.
In all the images below, the numbers are accurate but the charts reflect yesterday. I have mentioned this to Bloomberg a number of times to no avail.
Portugal 2-year Government Bonds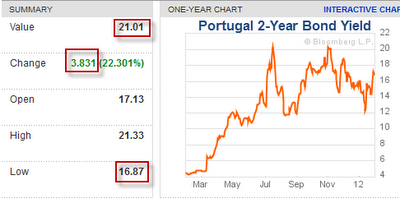 Portugal 3-year Government Bonds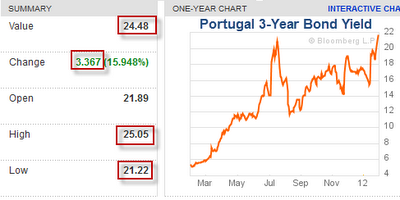 Portugal 5-year Government Bonds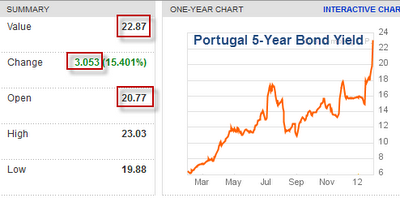 Portugal 10-year Government Bonds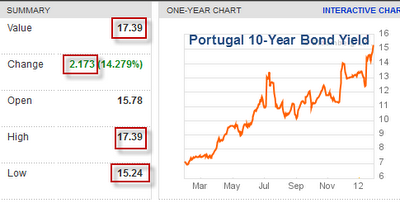 Notice the opens and the lows in the charts above.
Bloomberg reports "The Frankfurt-based ECB bought Portuguese government bonds today, according to three people with knowledge of the transactions, who declined to be identified because the deals are confidential. A spokesman for the ECB declined to comment when contacted by phone."
My take is the ECB foolishly attempted to manipulate Portugal's bond market at the open, then was blown out of the water in the process. The ECB recklessly bought Greek bond and learned nothing from it.
Portugal's Debt Will Be Restructured
Adrian Miller, a fixed-income strategist at GMP Securities LLC, talks about the outlook for the European debt crisis. He speaks on Bloomberg Television's "InBusiness with Margaret Brennan."
Link if video does not play: Portugal's Debt Will Be Restructured
CDS at Record High, 72% Chance of Default
Bloomberg reports Credit default swaps implied a 72 percent chance Portugal will default within five years.
Mike "Mish" Shedlock
http://globaleconomicanalysis.blogspot.com
Click Here To Scroll Thru My Recent Post ListMike "Mish" Shedlock is a registered investment advisor representative for SitkaPacific Capital Management. Sitka Pacific is an asset management firm whose goal is strong performance and low volatility, regardless of market direction.
Visit http://www.sitkapacific.com/account_management.html to learn more about wealth management and capital preservation strategies of Sitka Pacific.