Pomp And Circumstance In The American Republic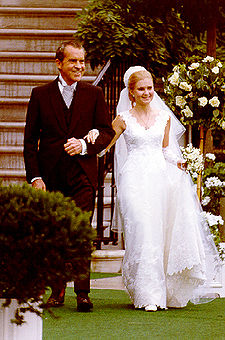 Here in the United States we don't have random un-elected monarchs to serve as our head of state. Which has its merits. But instead we bestow the honor and dignity that comes with being head of state on the a President who simultaneously serves as head of government. This doesn't actually deny us the weird spectacle of things like a Royal Wedding. Instead it just happens at the White House:
There was dancing in the East Room afterward, with the Marine Band breaking into "Lara's Theme" from Dr. Zhivago. The ongoing Vietnam War left a number of ladies without husbands. Tricia's sister, Julie Nixon Eisenhower, was without her husband, David. Lynda Bird Johnson was seen standing alone.
Eighty-seven-year-old Alice Roosevelt was on hand, complaining that her seat had still been wet. In some respects her wedding continued to hover over all that had followed. Most subsequent White House weddings now called for a sword to cut the cake, as if reaching back to recapture what had been a spontaneous and magic moment of history. Nellie Wilson was contacted by a silk manufacturing company sending her samples, promising to name a color after her, but Alice Roosevelt had long ago "pre-empted my beloved blue, so I chose a lovely flame-color." It was called "Nell Rose," but it did not catch on like "Alice Blue." Talking about the Nixon girls Alice would later offer one of her more biting comments. She said she liked "Julie better than Tricia. I've never been able to get on with Tricia. She seems rather pathetic, doesn't she? I wonder what's wrong with her?" The past chairman of the White House Conference on Presidential Children has pointed out that there were often deep reasons and issues behind the famous quips of Alice Roosevelt. Sitting in her damp seat in the Rose Garden, her glorious moment largely forgotten and her famous father now covered over by so many layers of important personalities and issues, Alice Roosevelt may have only been lashing out at the one White House bride whose beauty had transcended her own.
But of course it's relatively rare for a sitting president to have a child get married. Still, even weddings aside the president doesn't need to make do without courtiers. We have instead the White House Correspondents Association and its increasingly tacky and absurd annual dinner, an occasion at which it's apparently "inappropriate" and "over the line" to mock the incumbent while sitting in the Presence of his majesty.