Polish PM Pressing for End to Afghanistan Mission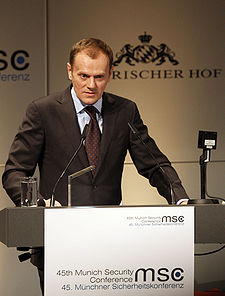 Poland is one of the more self-consciously America-aligned European countries for various historical and cultural reasons, so the news that Polish Prime Minister Donald Tusk wants to wrap things up in Afghanistan is telling:
Poland has 2,600 soldiers in Afghanistan as part of a U.S.-led NATO mission that is about to peak at 150,000. Public support for the deployment has eroded because of the deaths of Polish soldiers and a resurgence of the Taliban.
"Poland will push its NATO allies at a meeting in Lisbon to jointly come up with a relatively quick and precise plan for ending this intervention (in Afghanistan)," said Tusk.
"Poland is not in a position to break NATO solidarity … but we are sufficiently involved in Afghanistan to take advantage of the right to discuss ending this mission as soon as possible," he said.
The US will be able to keep soldiering on in Afghanistan even if all our international partners leave, but that will increase the burdens on us and erode the legitimacy around the operation. In my view this is yet another sign that it would be smarter to switch to a lower-cost, more defense-oriented strategy that would be more sustainable for the long term. Focus on helping anti-Taliban Afghans defend themselves rather than trying to conquer Taliban-held areas and "build" them into components of a functioning central state.