"People Are Voting With Their Feet": PIMCO No Longer EM Bond King As Fund's AUM Tumbles 62%
There's no question about it, it's been tough sledding for anyone long EM anything over the last few years. A veritable perfect storm of collapsing commodity prices, slumping demand from China combined with an unexpected yuan deval, and the incipient threat of a Fed hike (and thus an even stronger USD) have conspired to wreak havoc across the space. Exacerbating the situation are a collection of idiosyncratic political crises in Brazil (where Dilma Rousseff is battling impeachment, her main political opponent faces corruption charges, and the fate of FinMin Levy is a constant source of uncertainty), Turkey (where Erdogan has effectively launched a civil war in order to bolster AKP's iron grip on politics), and Malaysia (where Najib faces intense scrutiny over 1MDB, the development bank turned shadowy slush fund) - all well documented in these pages over the past six or so months. Here are a few visuals from Barclays' latest chart pack that should give you an idea about the scope of the turmoil. First, a look at the fiscal and corporate sector picture...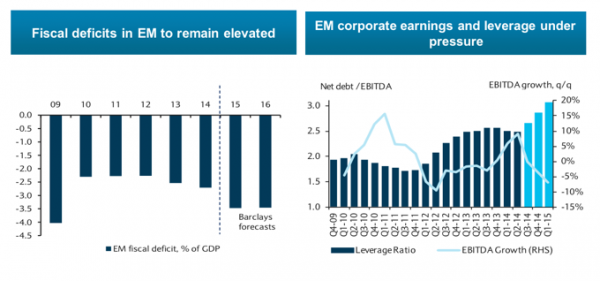 ...and here's the ratings trend...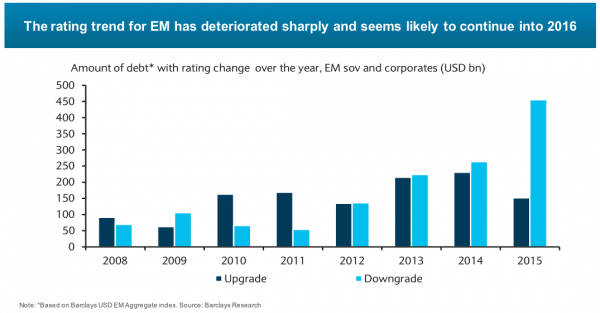 ...and perhaps most importantly, here's a look at the flows...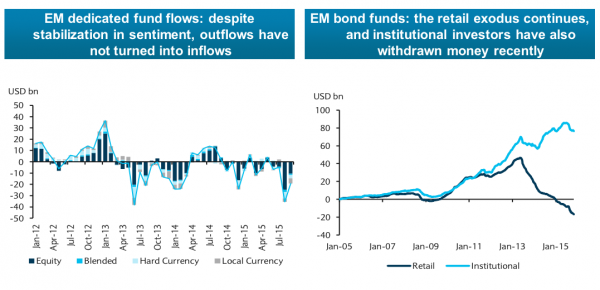 Amid the chaos, it hasn't been easy being a dedicated EM fund manager and if you happen to be running a fund that operates under the banner of an asset management firm that's lost two of the most high profile names in the business in the space of just two years, well, that makes it even worse. We are of course referring to PIMCO which, as Bloomberg reports, was just dethroned as the EM bond king. Here's more: Pacific Investment Management Co. has lost its title as manager of the world's largest emerging-market bond fund, battered by ill-timed bets that fueled an investor exodus. Assets managed by Pimco Emerging Local Bond Fund have tumbled 62 percent from an April 2013 peak to $6 billion at the end of October. It was about $150 million smaller than an Ireland-incorporated fund run by Stone Harbor Investment Partners LP. After attracting more assets than any of its rivals in the wake of the 2008 financial crisis, Pimco's outsized investments in places such as Brazil left it trailing its benchmark. Power struggles at Pimco shook investors' confidence further as former Chief Executive Officers Bill Gross and Mohamed El-Erian left the firm.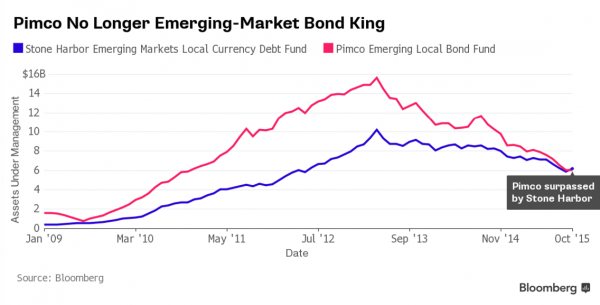 "Certainly performance at Pimco has been challenged in the last few years," said Philip Schmitt, senior research analyst at consulting firm Verus Investments in Seattle. "People are voting with their feet," he said, while adding that emerging-market funds overall have suffered from a strengthening dollar. Pimco's local bond fund, managed by Michael Gomez in Newport Beach, California, lost 25 percent in three years through Nov. 16 on a total return basis, compared with a 22 percent drop in JPMorgan Chase & Co.'s benchmark for emerging market bonds. The fund, which invests in local-currency bonds in developing nations, lagged 69 percent of its peers tracked by Bloomberg. Assets in the Pimco local currency fund surged to $15.6 billion in April 2013, from $778 million in July 2009, a period when developing nations led global growth while interest rates in the U.S. and Europe plummeted toward zero. When the Federal Reserve signaled plans to withdraw monetary stimulus in May 2013, it touched off a stampede out of developing nation funds. "There's a double whammy on EM debt," Fulton Chief Investment Officer Keith Aleardi said by phone from Lancaster, Pennsylvania. "You have emerging markets and companies in them having borrowed way too much and commodity prices have come down. And then you've had a strengthening dollar. It's a bad opportunity now." Adding to Pimco's woes, the surprise resignation of El-Erian in January 2014 exposed a power struggle that culminated with the ouster of Gross eight months later. Big investments in Brazil have been at the heart of the Pimco funds' roller-coaster ride. A 2002 contrarian bet led by El-Erian in Latin America's largest economy helped burnish Pimco's emerging market reputation. This year, Brazil's bonds have lost 28 percent in dollar terms as a corruption scandal paralyzed President Dilma Rousseff's government and held back efforts to rein in runaway deficit and debt. Needless to say, the outlook for Brazil isn't getting any brighter and, we might add, things are far from stable in Turkey and Malaysia. In fact, as we highlighted on Sunday, Turkey could be in for balance sheet trouble going forward in the event the dollar continues to rise.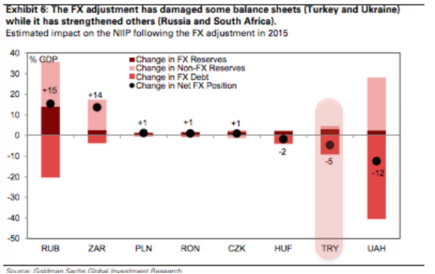 Consider that along with what we said at the outset regarding idiosyncratic political risk and then consider the following, which shows you the top 10 currency exposures for PIMCO's EM Local Bond Fund: