Pending Home Sales Miss, NAR Says Stock Plunge Is Good For Housing Affordability
The US housing market has, inexplicably, been touted by the economy bulls as the bastion of stability and growth in an economy that has otherwise been sinking in recent months (the reality is that the high end of the market continues to be supported by Chinese and other offshore capital flows, while the middle-remains gutted as recently confirmed by a record low homeownership rate and record high asking rents). So perhaps to moderate that euphoria, moments ago the NAR reported pending home sales for July, which printed at half the expected pace of a 1.0% monthly growth, rising 0.5%.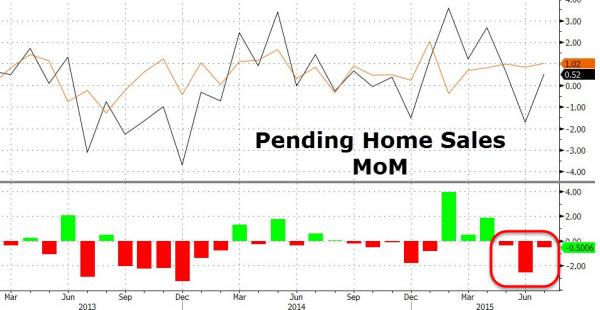 This was also the slowest Y/Y growth in pending home sales since January: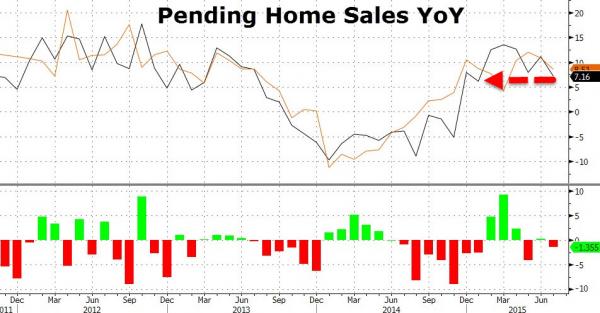 While the overall index remains in comfortable territory, at 110.9 it has risen 7.4% from a year ago, it appears to have hit a resistance level as the July level is below both April (111.6) and May (112.3). The reason? According to NAR's inimmitable chief "economist" Larry Yun, there are simply not enough affordable houses. From the report: Lawrence Yun, NAR chief economist, says the housing market began the second half of 2015 on a positive note, with pending sales slightly rising in July. "Led by a solid gain in the Northeast, contract activity in most of the country held steady last month, which bodes well for existing-sales to maintain their recent elevated pace to close out the summer," he said. "While demand and sales continue to be stronger than earlier this year, Realtors® have reported since the spring that available listings in affordable price ranges remain elusive for some buyers trying to reach the market and are likely holding back sales from being more robust. " In other words, just like the stock market, the leadership group is declining to just those homes purchased by price-indescriminate buyers, while everyone else is left in the dust. However, since this will pull the broader everage higher, the NAR is happy to forecast that the national median existing-home price will increase 6.3% in 2015 to $221,400. It was not added that this would come entirely from the most expensive end. Yun also forecasts total existing-home sales this year to increase 7.1 percent to around 5.29 million. Putting this in context, it is about 25% below the prior peak set in 2005 (7.08 million). But the biggest surprise came from the following Yun statement: "Uncertainty in the equity markets — even if the Fed raises short-term rates in September — could stabilize long-term mortgage rates and preserve affordability for buyers." So with China, Larry Summer and the IMF now calling for a rate hike, the NAR - of all entities - is suddenly quite happy to see the recent market rout continue, which would keep rates lower and promote "affordability." Guess nobody tell Larry that China has now started dumping bonds.