Paying attention to the buzz: How a positive online fingerprint has become critical to brand survival
Bad reputations are tough to rehabilitate, particularly in the profligate era of information-sharing through social media.
A glance at Lululemon's Facebook page on any given day when the retailer made multiple missteps last year provided a fascinating real-time chronicle of how companies labour daily to assuage the ire of dissatisfied customers.
And while it's hard for multimillion-dollar brands with deep-pocketed marketing budgets to turn around their blunders in the eyes of consumers, for smaller businesses or individuals, it can be near to impossible to wipe out a dirty online fingerprint, even an inaccurate one.
A positive online presence is more critical to businesses' survival in an era in which consumers regularly seek out goods and services, travel and prospective restaurants online.
"We have become very accustomed to measuring every purchase based on the number of stars it has, or the measure of positive reviews that it has, and it is happening because we have the information [online] and consumers expect it to be there," said Doug Stephens, founder of the Toronto-based retail advisory firm Retail Prophet.
It's all the more imperative for companies to pay attention to buzz because complaining consumers are more motivated to air grievances about brands on social media than they are words of praise, an ever-growing trend.
A recent survey found the number of customers complaining on social-networking sites such as Facebook and Twitter had leapt considerably in two years, to 35% in 2013 from 19% in 2011, according to the National Customer Rage Study from the U.S. firm Customer Care Measurement and Consulting.
While sites like Yelp, TripAdvisor and HomeStars work off of user reviews, a critical building block of reputation is simply what comes up in a brand or service's first few research hits on Google.
Related

That is where online reputation burnishers come in — business who, for a fee, aim to improve a company's social media profile.
"People Google a lot, and they believe a lot of what they read on the Internet," said Matt Earle, president at the Toronto firm Reputation.ca, noting 78% of people will use Google as a research tool first before contacting a business or person.
The first page of Google search results essentially "controls what the message is when people research a subject," Mr. Earle says, given that people don't typically scroll through dozens of pages of Google search results when researching topics.
And when that first page of Google hits looks bad, for whatever reason, it can kill a business.
One of Mr. Earle's clients owned a vacation rental property with a terrible digital trail.
"If you Googled the place, there was a story in a small regional newspaper that made it look horrible."
A court complaint alleged the owners had done something to their temporary tenants, he explains: "something a little bit creepy." The complaining tenant had lied, presumably to avoid paying the bill, and later admitted wrongdoing and apologized. But as is often the case when disputes get settled, there is no follow-up news story done to say the matter was resolved, and news organizations aren't obliged to remove old links unless they are factually incorrect.
"If it is not reported that the charges were dropped, it doesn't mean that the incident never happened in the first place." Bookings dropped off, and the client started getting people booking and cancelling without an explanation.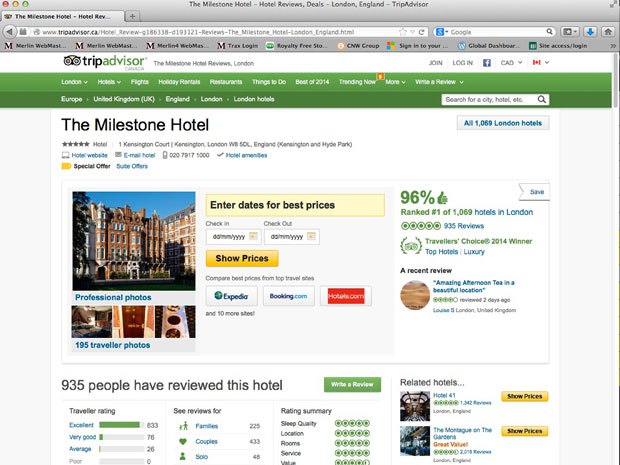 Screen grabA positive online presence is more critical to businesses' survival in an era in which consumers regularly seek out goods and services, travel and prospective restaurants online.
As Google has matured the giant search engine has moved increasingly towards so-called domain authority in serving up its list of results, putting trusted sources linked to large brands and businesses, news or official websites and organizations at the top of the list of results pages.
That also includes consumer led-forums, particularly those with hundreds of comments. Web browsers might find a high-ranking site on Google that leads with door-crasher sales from 2007, seemingly out of date compared with other links.
Some businesses still try to improve their reputation through manipulating results on review sites through phony reviews — A 2011 Harvard Business School study estimated a one-star rating increase on Yelp resulted in a revenue bump of 5% to 9% for a restaurant. More recently Michael Luca, the Harvard study's author said the number of fraudulent reviews on Yelp rose from 5% in 2006 to 20% in 2013.
The N.Y. attorney general cracked down on the practice in an infamous sting operation last fall, which resulted in fines for 19 companies who wrote fakes.
Mr. Earle distinguishes between cleaning up a review site reputation versus a search engine reputation, which involves pushing more positive or official material to the top of common search result queries.
"There are categories of business that consumers hate — where 30% or 40% of the population that don't like them — energy businesses, insurance businesses. There are a lot of people who believe insurance is actually a scam."
As for the vacation property, the ugly story is still out there, but it has dropped off of Google's top hits and the business bounced back.
"Google tries to provide the end user with the most relevant information related to that query, so we learn the company's perspective and disseminate that into the discussions," he said, by adding factual information about its clients' businesses, products and services.
"We made very elaborate profiles on Air BnB and TripAdvisor," and after a time the top 10 hits came up with positive content. "But if you go halfway down the second page, you will see this story which gives you the creeps."