Pay Attention to Details in Land Swap Proposals
Mark Landler has a New York Times article about some new maps from the Washington Institute's David Makovsky that aims to propose some land-swap concepts for drawing a border between Israel and Palestine:
The goal, Mr. Makovsky said, is to "demystify" the territorial hurdles that divide Israelis and Palestinians, and to debunk the notion that there is no way to reconcile the Palestinian demand for sovereignty over the West Bank with the Israeli demand for control over a majority of the settlers.
"In my view, it is definitely possible to deal with each other's core demands," he said. "There are land swaps that would offset whatever settlements Israel would retain. The impossible is attainable."
I'm not sure why Makovsky thinks these maps lead to that optimistic outcome. Certainly it's true that if you zoom out it's possible to come up with a solution that's "fair" in the sense that the numbers add up: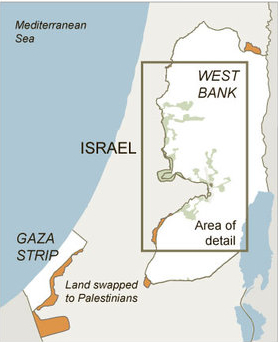 But look at the practical consequences this has in the vicinity of Jerusalem: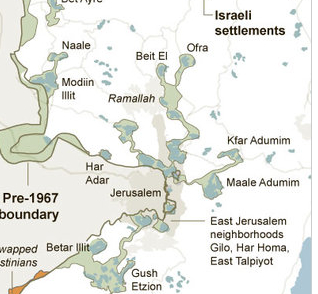 Only 10-20 miles separate Ramallah north of Jerusalem from Bethlehem south of Jerusalem, but this map creates salients of Israeli territory that would force massive detours and break up what ought to be a contiguous Arab conurbation of Ramallah/East Jerusalem/Bethlehem. It would be as if the only way to get from Silver Spring to Tyson's Corner involves driving through West Virginia. You could make this work, of course, by making the Israeli/Palestinian border very porous but that doesn't seem like something Israel would want to do.
To me, Makovsky's cartographical undertakings simply illustrate the problem here. Israel's core interest is to have a Jewish state in the historic Land of Israel with secure and internationally recognized boundaries. The Palestinians' core interest is to have an economically viable Palestinian State in historic Palestine. These demands are very compatible, but they're not compatible with Israeli efforts to hold on to all these Jerusalem-area settlements. Some measure of land-swapping is a very reasonable alternative to total dismantlement of all Israeli settlements, but raw quantities of land aren't everything.