Paid Parental Leave
I'm a longtime mandatory paid vacation skeptic for standard neoliberal sellout reasons but one area where I think direct labor market intervention would offer large gains is in terms of paid parental leave. As Lauren Damme writes (PDF) the US is a real outlier in terms of not offering it: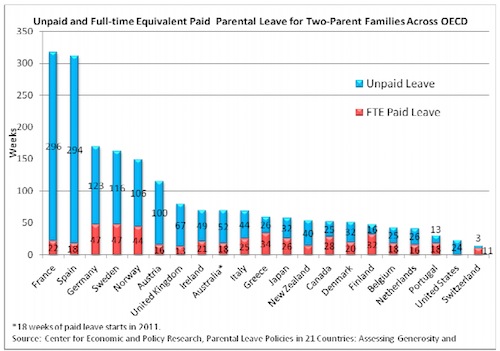 The U.S. is the only wealthy country in the world without a system of paid leave to support working families. The experiences of developed nations show that economic growth is not undermined by policies that allow parents to spend adequate time with their newborn children. Equally important, paid parental leave policies are associated with lower infant mortality rates, better cognitive test scores and fewer behavioral problems for children, as well as fewer negative labor market consequences for mothers.
The point here, to me, is that subsidizing child-rearing is an eminently reasonable policy goal. Since a kid born today won't be in the workforce until 2030 or later it's very possible that a measure to reduce present labor supply in favor of more child-rearing will entail some kind of small short-term hit to growth. But in the long run people matter most, and giving parents the ability to take the time needed to get infants off to a good start in life is something with very large payoff.