The Pace of Change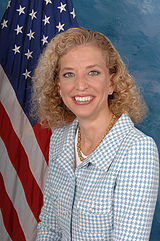 Reacting to a story about the friendship between Debbie Wasserman-Schultz, Gabrielle Giffords, and Kirsten Gillibrand, Shani Hilton observes:
It's good that the women who are there have been able to support one another, but this is a reminder that women haven't made many inroads in Congress — or the congressional leadership — in nearly a decade. The 2010 election saw the first drop in women in Congress since 1979, from 93 to 90. It was also the first year since 1979 that women did not increase their ranks. There are currently 72 women serving as representatives: that's just over 16 percent of the 435 members. In the Senate, women fare a bit better, where 18 serve. The numbers have increased at a trickle, as Rutger's Debbie Walsh told CNN: "We tend to go up a few every cycle, three or four, maybe five seats, but women don't seem to be making any serious strides in terms of numbers."
I see the tactical and strategic case for emphasizing the negative—the pace of positive social change should always be higher—but that actually strikes me as a pretty remarkable record of steady progress. What's more, within the past ten years we also saw the first woman House Minority Leader and later speaker, we saw women head the DSCC and NRSC for the first time, etc.