Oil Tumbles After Macron Proposes New Iran Deal
With crude oil surging in recent weeks as a result of geopolitical tensions, including Trump's tariffs on Russia but mostly due to concerns the US president will terminate the Iran nuclear deal in two and a half weeks, eliminating roughly 1 million barrels in Iranian output from the market, it was to be expected that the mere suggestion that the Iranian deal could be salvaged - as virtually all of Europe has insisted and pleaded with Trump - would send oil tumbling.
That's precisely what happened moments ago, when during his press conference with Donald Trump, French President Emmanuel Macron proposed a new Iran deal, noting that a "new deal" would block nuclear activity to 2025.
In kneejerk response, oil tumbled by nearly one dollar, sliding below the $69 level it reached earlier today for the first time since 2014, and dropping briefly below $68, in the process slamming Inflation breakevens, and the broader market, as suddenly inflation is not looking all that certain.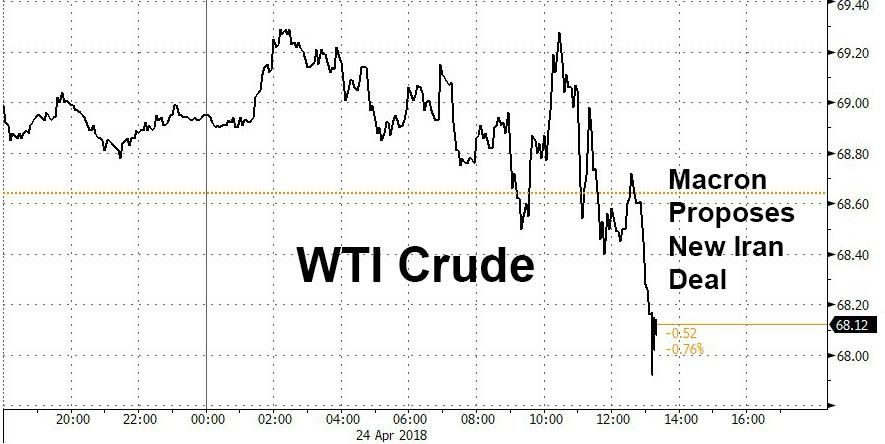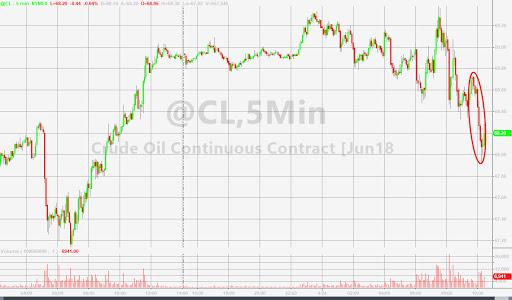 That said, Trump did everything in his power to assure his best weapon purchasing buddy, Saudi Arabia, that a renewed deal with Iran is anything but certain:
TRUMP SAYS IF IRAN THREATENS U.S. IN ANY WAY THEY WILL PAY A PRICE LIKE FEW COUNTRIES HAVE EVER PAID
TRUMP SAYS `NOBODY KNOWS' WHAT I'M GOING TO DO ON IRAN DEAL MAY 12: PRESS BRIEF.
As Trump suggests, we may indeed have to wait until May 12 to know what the president will decide, although judging by the oil move today, it no longer appears definite that Trump will kill the Iran deal.