The office in 3D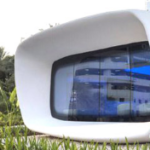 Dubai has opened what it claims is the world's first 3D-printed office. The building, constructed in just 17 days using a special cement mix and costing only $140,000, is located near the Dubai International Financial Center. It will serve as the temporary HQ of Dubai Future Foundation, the driving force behind the project.
A 3D-printer, measuring 20 feet high, 120 feet long and 40 feet wide, was used to print the building. The developers say there was a 50% saving on labour costs as the project required just 18 people onsite, predominantly engineers and electricians.
The United Arab Emirates minister of cabinet affairs, Mohamed Al Gergaw, said the new building was 'world changing' and that Dubai was looking to see one-quarter of the UAE's buildings printed by 2030.
The initiative is part of the Dubai 3-D Printing Strategy, an initiative aimed at harnessing the new printing technology for 'the service of humanity' and at promoting the status of the UAE and Dubai as a leading global centre of 3-D printing.