North Korea won't send 'squad of beauties' cheerleaders to Asian Games, blaming hostility from South Korea
SEOUL, South Korea — North Korea said Friday it won't send cheerleaders to the upcoming Asian Games in rival South Korea, blaming what it called Seoul's hostility for reversing a decision to dispatch the women dubbed by South Korean media as a "squad of beauties."
Many South Koreans were infatuated in past years with the cheer squads of mostly young North Korean women that came south, often lavishing more attention on them than on the North's athletes. Before her marriage, North Korean leader Kim Jong Un's wife was on a 2005 squad. Analysts say the North's decision suggests that the country may not continue an earlier push to improve ties with South Korea.
The North had said it wanted to send both athletes and cheer squads as part of a broader set of proposals to help ease tension. But talks between the rivals last month on the North's participation broke down because of disputes over the size of the North's delegations, the cost of stay for the cheerleaders and the size of North Korea's flags.
South Korea has rebuffed the North's other proposals, which included stopping hostile rhetoric on both sides and Seoul scrapping military drills with Washington. Seoul says Pyongyang must first take steps toward nuclear disarmament.
Son Kwang Ho, vice chairman of the North's Olympic Committee, was quoted in state media saying that his country will send 150 players, coaches, referees and other people to take part in 14 events in the games set for Sept. 19 to Oct. 4 — but no cheerleaders.
North Korean media dispatches criticized South Korean delegates during last month's talks, saying they opposed the use of North Korean national flags that are too big and raised the issue of how much South Korea should finance the stays of North Korean cheerleaders. South Korean officials have said they tried only to find out details about the North Korean delegation and raised worries that big flags could cause safety issues for North Korean cheerleaders.
South Korea expressed regret over the North's announcement, saying it was Pyongyang that disrupted last month's talks by taking issue with Seoul's questions on details about the North's participation. South Korea said it still hopes that both North Korean athletes and cheerleaders will come.
Related

North Korea boycotted the 1986 Asian Games and the 1988 Summer Olympics, both in Seoul, but attended the 2002 Asian Games in Busan, the 2003 University Games in Daegu and the 2005 Asian Athletics Championships in Incheon.
In all three events in 2002, 2003 and 2005, the North dispatched cheerleaders.
Among the 2005 squad was Ri Sol Ju, who is now Kim Jong Un's wife, according to South Korean officials.
The two Koreas are divided along the world's most heavily fortified border. The Korean Peninsula is still in a technical state of war because the Korean War ended with a truce, not a peace treaty.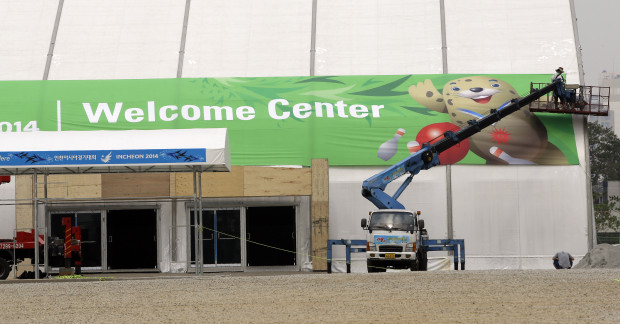 AP Photo/Lee Jin-manWorkers attach a banner of Incheon Asian Games in Incheon, west of Seoul, South Korea, Friday, Aug. 29, 2014.