No carbon price means no international carbon price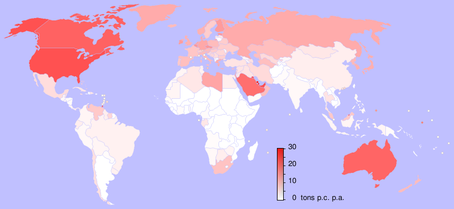 I've never been certain that if America puts a real price on carbon it will give us the moral authority to convince other countries -- particularly developing nations like India and China and Brazil -- that they should put a serious price on carbon, too. That was always going to be an uphill battle, as the developing nations reply, quite correctly, that it's rather unfair for the rich countries to get rich off of cheap energy and then decide that no one else can do the same. The map above comes from Wikipedia and tracks carbon emissions per capita by country. This is pretty much how the situation looks to the developing world.
So I'm quite certain that if America doesn't put a real price on carbon -- as seems increasingly likely -- there's no way the rest of the world is going to put a price on carbon, either. That means whatever dreams we had of dealing with global warming through an economically efficient carbon-pricing scheme are pretty much out the window.
What's left is the hope that somebody invents something really impressive, really quick. Environmentalists talk about this in terms of a "Manhattan project" for energy, which is probably the right way to talk about it. But I've been reading a bit about the Manhattan project, and one of the things that immediately jumps out at you is that the threat posed by Germany meant that price was no object in the search for the atomic bomb. Conversely, price is the object in the search for new energy technologies. What we need isn't just a clean energy source, but a clean energy source that is about as cheap as dirty energy sources that we've spent hundreds of years learning how to access and use.





Environment - Carbon Cycle - Carbon Management - Climate change - Energy