No bidders for Barnes & Noble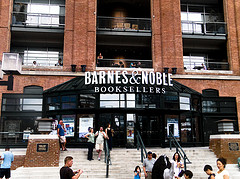 With its months-long auction drawing to a close and no apparent takers, it's looking like Barnes & Noble may fail to find a buyer. How is it that the nation's largest operator of physical bookstores with a popular e-reader, the NOOK, is so very unappealing to potential suitors? The answer lies in the seismic changes in the book market and skepticism regarding B&N's ability to compete with arch-rival Amazon.com.
Already a victim of Amazon's success, B&N has worked furiously over the past two years to play catch up in e-books and transform its business from one focused on superstores to the digital marketplace. It established the Palo Alto Technology Group and staffed it with recruits from e-commerce, technology, and digital media companies. Headed by an eBay alum and staffed with veterans of Apple, Adobe, HSN, Microsoft, Palm, and Travelocity (to name just a few), the digital products team is charged with developing software and applications for the e-reader business. It brought the NOOK to market in 2009. A follow-on version, NOOK Color, launched late last year and B&N has had considerable success with digital sales. Indeed, the company's online division, BN.com, claims to have captured 25% of the e-book market, an impressive feat in a very short time. By comparison, it took the company 10 to 15 years to achieve a smaller share of the physical book market! The speed at which BN.com has ramped up its digital business illustrates how dynamic and rapidly changing the market is. B&N continues to spend heavily to promote the NOOK and lavish resources (a projected $140 million in fiscal 2011 alone) on its digital business. The bookseller suspended its quarterly dividend in February to help fund its digital growth, sending the stock plummeting (see here).
B&N's drive to play hard in the digital market — and the capital investment required to do so — may be just what's scaring off potential buyers (strategic or otherwise). That and the belief that no matter how hard it tries, B&N will never be able to match Amazon's strategically better platform to market its Kindle e-reader and the cost structure advantages inherent in the online giant's business model. Skeptics also like to point out that B&N risks cannibalizing its own bookstore sales with e-book sales and that its digital strategy faces major challenges from much wealthier and formidable rivals like Apple's iBooks, as well as Amazon.
Negotiations between the bookseller and potential suitors are private, so we may never learn who passed on B&N and why. But I'm willing to bet that the specter of Amazon coupled with the perception that B&N arrived late to a very exclusive party are to blame.
~
Photo by Evan Krell, used under a Creative Commons license.