NFL lockout could hurt chicken wing industry and others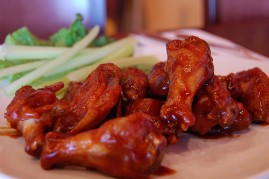 The potential NFL lockout has stirred the passions of football fans across the country, including on Clear Channel's AM 1300 The Zone, to which I am an avid and loyal listener. Last week the station's afternoon program, The Sports Buffet, dedicated several segments to the discussion of chicken wings. While this topic isn't out of the ordinary for the wing-loving hosts, this specific conversation focused on the recent news about the impact the NFL lockout will have on chicken wing sales. The ongoing disagreement between NFL owners and players is expected to create negative ripple effects throughout a variety of industries.
Chicken wings and football is considered the ultimate match by many devoted fans. However, if there isn't a football season, sales of this popular football finger food are anticipated to decline. Sanderson Farms CEO Joe Sanderson Jr. says that chicken wings comprise 12% of the company's production and it sells roughly 3 million pounds of wings per week. The elimination of Sunday football would be a "major blow" to the business and product demand. And, who is a major buyer of Sanderson's chicken wings? You probably guessed it. Sports bars. They too will face potentially damaging results.
The National Chicken Council reported that 1.25 billion wings were devoured during last month's Super Bowl weekend. Football game days typically generate a high consumption of chicken wings particularly at sports bars and restaurants. These local establishments would experience a sizeable drop in customer traffic if a football stoppage occurs, which would directly affect wing/beverage sales and the business's overall bottom line. Several sports bar operators estimate a weekly loss of $5,000-$15,000 if an agreement is not reached between the NFL and NFL Players Association. Servers and wait staff would also endure the financial effects if there are no football patrons to provide regular tips.
Buffalo Wild Wings has even launched a "Save Our Season" campaign on its Facebook page to demonstrate support for a 2011 football season. Many establishments are preparing the elusive "Plan B" just in case there is no football to enjoy this year. One idea entails conducting an NFL video game tournament during the actual season. Eh, I would rather have the real deal, but I understand their line of thinking—attempt to quench the consumer's thirst for the gridiron.
But could the video game industry even feel the results of a lockout? Maybe. Some analysts speculate that sales of EA Sports' Madden NFL 12 could drop up to 50% if this lingering stalemate remains unsettled. EA Sports, an operating label of Electronic Arts Inc., has scheduled the Madden release for August. I tend to think NFL fans and gamers alike will scoop it up immediately regardless of a lockout. Virtual football is better than no football at all, right?
The football fan in me, like many others, hopes that the owners and players (and egos) can mutually work together to resolve the issues on the table. I know—easier said than done, but I'd really like to watch my Dallas Cowboys this season.
~
Picture by stu_spivak, used under a CC-Share Alike license.