NFL insider Adam Schefter says Jon Gruden will be the next coach of the Oakland Raiders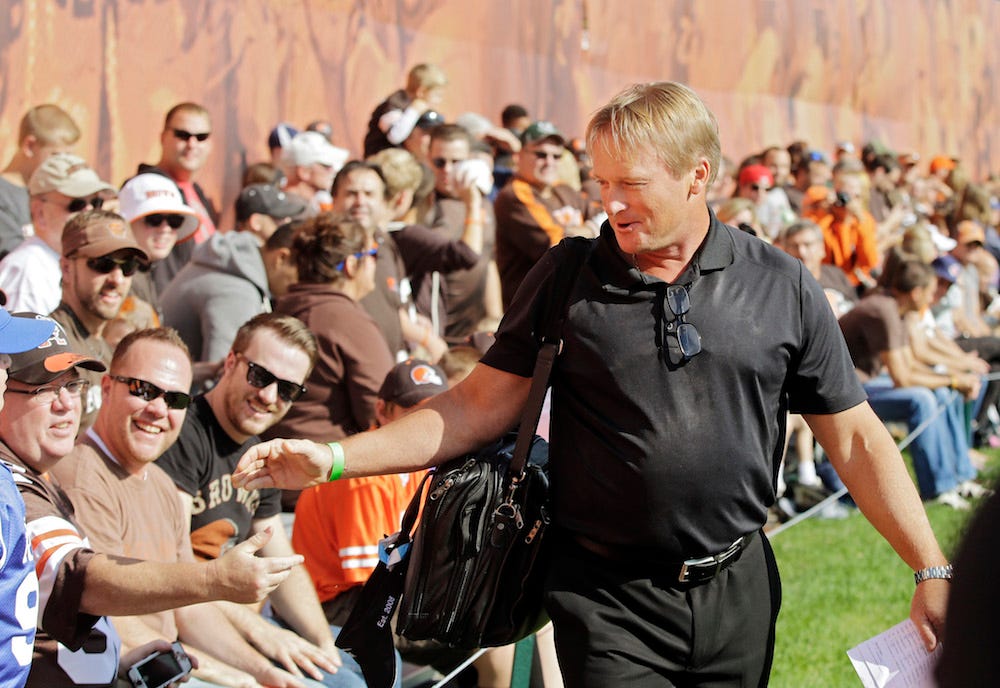 Mark Duncan/AP
ESPN's NFL insider Adam Schefter says Jon Gruden will return to coaching as the head coach of the Oakland Raiders.
The Raiders fired head coach Jack Del Rio earlier in the day.
It will take some time for the deal to become official, but according to Schefter, "it's simple, you don't make that move with Jack Del Rio unless you know you can get Jon Gruden."
The deal could also include an ownership stake in the team, but that would need to be approved.
It sounds like Jon Gruden is really coming back to coaching this time and it will happen with a team he is quite familiar with, the Oakland Raiders.
The Raiders fired head coach Jack Del Rio earlier on Sunday after the team finished a disappointing 6-10. According to NFL insider Adam Schefter of ESPN, Gruden will be the next head coach of the Oakland Raiders.
"It's simple, you don't make that move with Jack Del Rio unless you know you can get Jon Gruden," Schefter said on ESPN. "Jon Gruden is going to be the next coach of the Oakland Raiders. The only question is when it happens."
While the deal is not official yet, Schefter, along with Chris Mortensen, reported earlier on Sunday that the Raiders planned to aggressively pursue Gruden. According to their sources, Gruden would be "tempted to accept" the offer and that it could even include an ownership stake in the team.
It should also be noted that Gruden currently works for ESPN and presumably Schefter would not make such a proclamation without some assurance that his statement was accurate.
You can see Schefter's comments here:
If the Raiders do offer Gruden an ownership stake, there is a huge catch — it must be approved by other NFL owners and there is a good reason to think they would be reluctant to do so.
One ownership source told ESPN that the owners "might not be so quick to approve the deal" because they wouldn't want to set a precedent. According to Schefter and Mortensen, the deal could be structured in a way that would compensate Gruden if the ownership portion were not approved.
Also on Sunday, Scott Bair of NBC Sports Bay Area asked Raiders owner Mark Davis about the initial ESPN report saying the team would pursue Gruden. According to Bair, Davis "played coy" when asked about Gruden.
"Just ran into Raiders owner Mark Davis," Bair wrote on Twitter. "Asked directly about about ESPN report re: interest in Jon Gruden. He played coy. Said focus is on winning next game. Asked about Del Rio's job status. Wouldn't touch it. Asked again about Gruden report: 'these rumors come about every year'"NOW WATCH: JIM ROSS: Hulk Hogan will make a huge comeback to the WWE in 2018 — here's why