The Next Mayor of Chicago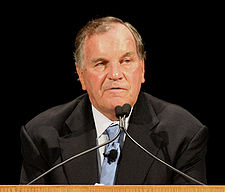 With Richard Daley apparently ready to relinquish his long-held post of Mayor of Chicago, it's worth reflecting on the slight oddness of the American idea that the next Mayor of Chicago should be some other politician who happens to be from Chicago rather than some other mayor who's done a good job. They're going to get some Alderman or maybe a member of the US House of Representatives or maybe Rahm Emanuel. My understanding of how they do this in China is that they'd promote the mayor of some other city.
Consider Boston, for example. The metro area is about half the size of Chicago's, but the city proper has only 645,169 people to Chicago's 2,851,268. And incumbent mayor Tom Menino has shown a Daley-esque ability to get endlessly re-elected. What's more, in terms of crime and school system performance, Boston is clearly among the best-governed cities in America. Why not give him a chance?
And of course promotion needn't go strictly in terms of upward size. Michael Bloomberg has been a good mayor of New York, but NYC has strong fundamentals and it was clear from the last election that the voters there are getting a bit sick of him. So since he's effective, why not have him bite off a more challenging city like Baltimore or Detroit? Obviously, "that's not how we do things" but the logic of relentlessly promoting from within seems pretty weak to me.