Newt Gingrich Calls On United States to Adopt Saudi Arabian Standards of Religious Freedom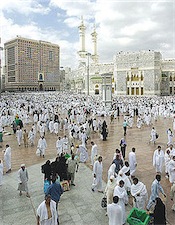 What an odd and repellent man:
There should be no mosque near Ground Zero in New York so long as there are no churches or synagogues in Saudi Arabia. The time for double standards that allow Islamists to behave aggressively toward us while they demand our weakness and submission is over.
Why on earth would we adopt this standard? There are no synagogues in the Vatican City, and yet we have Catholic churches all over the place. That's because the United States of America isn't a small city-state run by a religious leader. In Denmark, they have a state-sponsored church, but we don't have a state-sponsored church because in the United States we have a strong belief in a brand of religious pluralism that's served both the country and religion well. Saudi Arabia is notorious for its lack of freedom of religion, but we don't improve anything by mimicking Saudi Arabia's flaws.
One gets the sense that Gingrich's reasoning is so weak here because he actually has no idea why it would make sense to prevent mosque-construction in Lower Manhattan. He just knows that this has become a far-right cause celebre and he likes to ride the far-right wave. If the far-right wants anti-Muslim bigotry, then he'll provide it. But he's an "ideas guy" so he has to try to think up a reason.