The New Wizards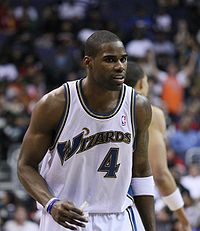 Well, a couple of depressing years for the Wizards have gotten even more depressing this week as we've seen the team's best player shipped out in cost-cutting deals. Antawn Jamison is going to Cleveland in a deal that will bring Zydrunas Ilgauskas and Al Thornton to DC. And Caron Butler and Brendan Haywood have been sent to Dallas.
Haywood is, I think, underrated and should make the Mavericks much better. He's not a huge offensive impact player, but he doesn't make mistakes and he defends and rebounds well. Butler's also useful, even though this year he hasn't been very good. And Jamison, though possibly not worth the big bucks he's paid, should be a substantial upgrade over JJ Hickson.
I think this really cements the Cavs as favorites to win the championship. Portland and Houston both made trades that improve their teams a lot.