New Jersey NIMBYs Mad That Photovoltaic Panels Are Marring Their Previously Pristine Utility Polls
One of the most insane things about the contemporary United States of America is the ferocious small-c conservatism that people have adopted about aesthetic matters in which seemingly any change to the built environment is an outrage:
Nancy and Eric Olsen could not pinpoint exactly when it happened or how. All they knew was one moment they had a pastoral view of a soccer field and the woods from their 1920s colonial-style house; the next all they could see were three solar panels.
"I hate them," Mr. Olsen, 40, said of the row of panels attached to electrical poles across the street. "It's just an eyesore."
Now to borrow The New York Times' photo: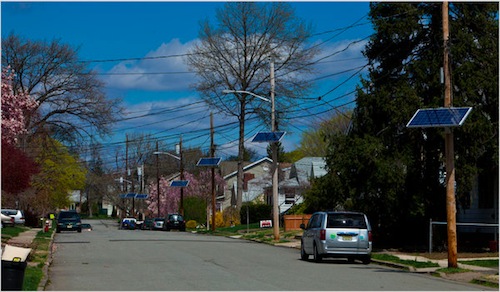 This is not a pastoral view disrupted by solar panels. It's a view of utility polls, street lights, and overhead electrical wires—now with solar panels! It would be interesting to see if people actually preferred a pastoral view free of the accoutrements of electrification but I doubt anyone actually prefers that. Instead, the customary interjections of technology into the suburban landscape are normalized while any deviation from the postwar pattern is anathematized. Had people 100 years ago had this attitude, I suppose nobody would have telephone service or electricity at all.