Nathan Bedford Forrest High School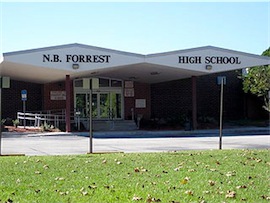 Via Matt Zeitlin, here's an odd postcard from 2008 regarding the practice of naming things after Confederate General, Fort Pillow Massacre perpetrator, and KKK founder Nathan Bedford Forrest:
More than half the students at Nathan Bedford Forrest High School in Jacksonville, Fla., are black, and some members of the community object that they are forced to attend a school that was named in honor of a racist.
Nathan Bedford Forrest was a slave trader before the Civil War, a top-notch Confederate cavalry leader during the war, and the Imperial Wizard of the Ku Klux Klan in Tennessee when it was over, according to University of North Carolina-Greensboro emeritus professor Allen Trelease, a Civil War scholar.
Forrest High got its name in 1959, when the Daughters of the Confederacy, angry about the Supreme Court's 1954 Brown v. Board of Education decision forcing school integration, pushed for the name.
The school board voted 5-2 to keep the name, with all five white members in favor of Forrest. Of course lots of things in the United States are named after people with a bad record on racial issues, but not only is Forrest an unusually egregious case in this instance it's clear from the timing that the school was given that name specifically as an f-you to blacks and supporters of racial equality.
I'd frankly like to see more hay made out of this thing politically. Southern-based conservative politicians frequently campaign in the contested midwest and southwest areas with appeals to shared dislike of coastal liberalism. But I'm pretty sure voters in Wisconsin and New Mexico and Iowa and Colorado have no particular affection for the Confederacy and the Klan.