Mossad spy who saved Khaled Meshaal's life urges Hamas leader to end Gaza war
Seventeen years ago, the Hamas leader Khaled Meshaal lay dying, as poison in his veins began to shut down his vital organs one by one.
At the last moment, a shadowy figure emerged, handing over a secret antidote that brought him back from near death. Now, as the war between Israel and Gaza continues to rage, that same figure – the former Mossad agent, Mishka Ben David – has appealed to Meshaal to return the favour: stop taking "the most extreme side" in Hamas and accept a compromise to end the war with Israel.
The floor-to-ceiling windows of Mr. Ben David's living room, on a hilltop just outside Jerusalem, give a panoramic view all the way to the south of Israel and beyond, where bloody fighting rages on.
"You can see Gaza from here," says the former spy, pointing to a tiny blur in the distance beyond the city of Ashkelon. "I can hear the bombardments at night."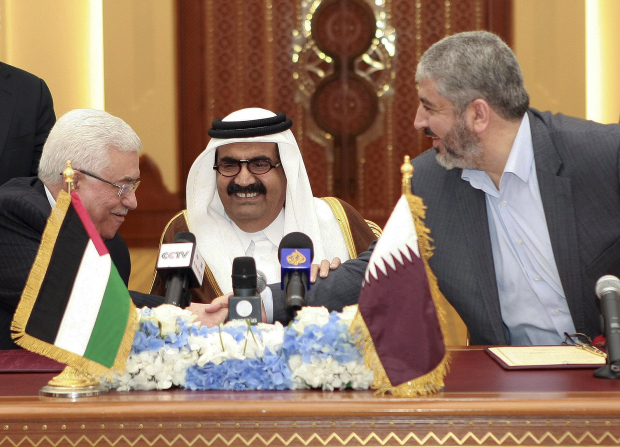 AP Photo/Osama Faisal, FilePalestinian President Mahmoud Abbas, left, shakes hands with Hamas leader Khaled Meshaal, right, as the Emir of Qatar, Sheikh Hamad bin Khalifa Al Thani looks on, after signing an agreement in Doha, Qatar, Monday, Feb 6, 2012.
Several weeks ago, a more immediate message from Gaza arrived, in the form of a rocket that exploded just 50 yards from Mr. Ben David's dining room table.
"It was a huge blast," he said. "All the houses around here shook, all the glass in the windows broke, there was shrapnel everywhere."
Although Mr. Ben David was with his daughter and his three grandchildren at the time, no one was hurt. But their close shave with death or injury prompted him to appeal to Meshaal, via a letter published in a newspaper, reminding him of the failed Mossad operation in the aftermath of which he had been involved.
"I though that it is time to address the rational side of Khaled Meshaal," he said. "And I thought that I am the person to do so, because I'm the person who had a hand in reviving him."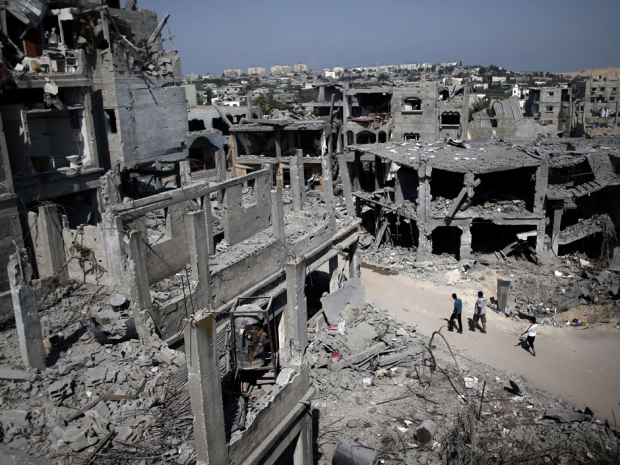 THOMAS COEX/AFP/Getty ImagesPalestinians walk past destroyed buildings in the northern Gaza Strip city of Beit Hanun on Aug. 22, 2014.
Meshaal has long been Hamas's most powerful leader abroad, the figurehead whose stance has discouraged the group's leadership in Gaza from considering any compromise.
In September 1997, a Mossad squad stood in position ready to ambush Meshaal at his office in Amman, the Jordanian capital.
"Khaled Mashal got out of his car and went upstairs through a certain sidewalk from which he entered his office," said Mr. Ben David. Inside the office, "the two operatives [were] waiting for him, ready to spray him with the substance that was supposed to cause his death."
Related

But at that moment Meshaal heard his young daughter calling for him. "So Mashal turned around and instead of getting [the poison] in his neck, he got it in his ear."
Seeing the two Mossad operatives, Meshaal called for help – and very quickly the Mossad agents were themselves incapacitated, then arrested.
But the poison had already began spreading throughout Meshaal's system, slowly inducing partial paralysis on the way. The Hamas leader was rushed to a Jordanian hospital and hooked up to a life-support machine, but, despite the best medical services available, was given only a few days to live. At this point, King Hussein of Jordan unleashed his fury upon Israel, a country with which only two years previously he had signed a peace agreement. With the support of Bill Clinton, the then U.S. president, the king issued an ultimatum: Israel must provide the antidote to the poison, or the Mossad agents would face trial and likely execution.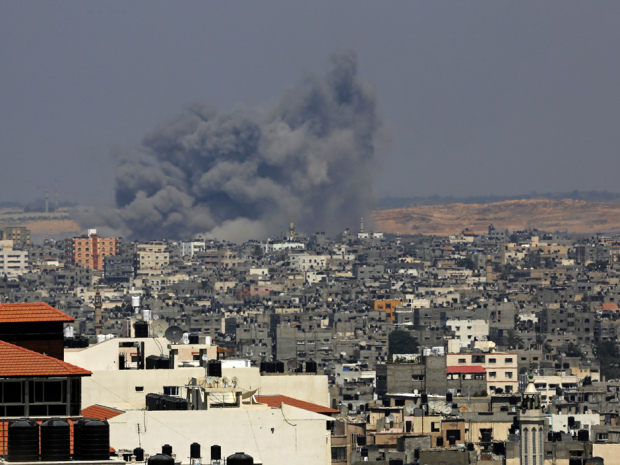 AP Photo/Adel HanaSmoke rises after an Israeli strike hits Gaza City in the northern Gaza Strip, Saturday, Aug. 23, 2014.
Waiting in a nearby hotel, Mr. Ben David was called on to hand over the antidote.
While Hamas missiles narrowly missed Mr. Ben David's daughter and her children last month, it had been Meshaal's little girl who played a key role in saving her father's life all those years ago.
Today, Mr. Ben David says Meshaal represents "the most extreme side of Hamas," which would lead both the Israelis and the Palestinians into an increasingly more devastating confrontation.
The latest war over Gaza – still continuing after the failure of ceasefire talks – has lasted for 47 days and claimed the lives of more than 2,100 Palestinians and of 66 Israelis. In Gaza, thousands are injured, homeless and displaced, with fewer and fewer safe places to take shelter in the besieged strip of land. Hospitals are overflowing, while on the streets, civilians continue to pull out dead and decomposing bodies from the rubble.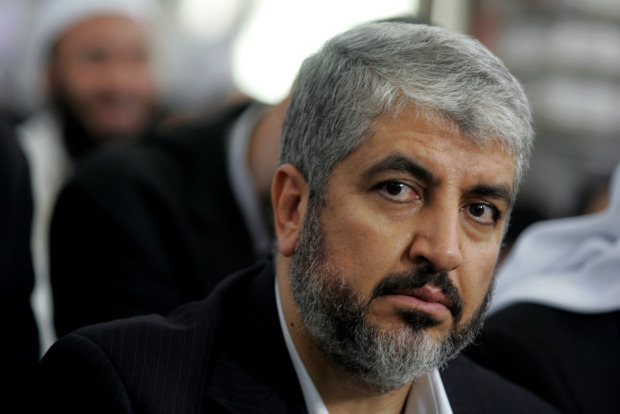 AP Photo/Nader Daoud, FileKhaled Mashaal, Hamas leader, attends his father's funeral at a Mosque in Amman, Jordan Aug. 29, 2009.
In Israel, the war forced up to two thirds of the country's population to seek refuge in bomb shelters, while those in communities close to the Gaza border fled in fear of the tunnels dug by Hamas. Unsuccessful in kidnapping live soldiers, Hamas has resorted to snatching the bodies of Israeli troops, to be used as bargaining chips in negotiations that have failed so far.
Yet Meshaal, who has visited Gaza only once, conducts the war from luxurious hotel rooms in exile in Doha, Qatar.
From there, he insists that Hamas must not relent in its campaign against Israel, ordering rockets to be fired from Gaza even as the two sides commenced negotiations in Cairo.
Hamas wants to defend its people, not to use their blood for negotiating in Cairo or elsewhere. These are silly pretexts used by the Israelis
"In the history of war between states and nations, negotiations normally take place during the war and not necessarily after the war," he told Al Jazeera in an interview just two days before the latest ceasefire talks in Cairo collapsed after rocket fire from Gaza.
"The Vietnamese were negotiating with the Americans in Paris, while the battle was raging on the ground in Vietnam. In other words, negotiating during the war is very normal.
"Hamas wants to defend its people, not to use their blood for negotiating in Cairo or elsewhere. These are silly pretexts used by the Israelis."
Mr. Ben David said such a strategy was "problematic for his own organization," adding: "In the near future, I think other forces of Hamas will join together and put forwards another position, which will be softer than his, because they see the suffering and the consequences."
Meshaal should at least allow "more pragmatic forces" within Hamas and Gaza to deal with and come to terms with Israel, he said – much as the Palestinian Liberation Organization already had done.
"They've changed. They've become pragmatic," he said. "I believe that without changing your religious beliefs and your national aspirations, you can at least come to terms that they are not relevant now or in the next generation or so.
"If you can't change and you stick to your positions, you're going to see more and more dead Palestinians. You are really creating the destruction of Gaza."
Yet Mr. Ben David admitted that Israel's own actions in Gaza were damaging the country's standing.
Israel is like a grizzly bear fighting a wildcat
"Israel is like a grizzly bear fighting a wildcat," he said. "Everyone knows the grizzly bear will defeat the wildcat, but it will still suffer and get many scratches."
In recent days, Israel has launched strikes aiming to kill Hamas leaders in Gaza.
On Tuesday, five one-ton bombs flattened the building where Mohammad Deif, the leader of Hamas's military wing was supposed to have been staying, killing his wife and infant son along with three others.
While Mr. Deif's fate remains unclear, the following day, Israel assassinated three of Hamas's top commanders in Gaza.
Asked if another plot by Israel's secret service to kill Meshaal might be in the works, even in the apparent safety of Doha, Mr. Ben David shrugged nonchalantly.
"If the prime minister decides to kill him, it will happen," he said.
"For the Mossad, I don't think there is a 'mission impossible.'"