More Study for Franken Amendment: Possibly the Right Call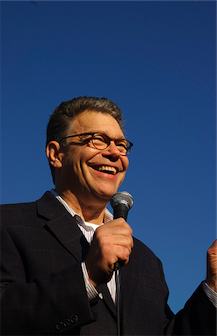 Al Franken campaign photo
I missed this when it happened, but it seems that on Tuesday the Conference Committee sort of gutted Al Franken's amendment on rating agencies. Tim Fernholz explains:
An all-day fight ensued behind the scenes among Democratic members of the Senate delegation over whether to protect Franken's idea or accept the House's language. Franken's proposal, despite a strong vote in the Senate, is still viewed skeptically by some Democrats because it preserves the existing ratings agencies and by others because agencies have lobbied hard against it. Eventually, a compromise was brokered, directing the SEC to implement Franken's plan — after a year-long study. It's a classic Washington agreement, at once meaningless and damaging since regulators could ignore legislators' intent after public scrutiny subsides.
"Today's compromise is not everything we wanted, but it's a major step in the right direction," Franken said later. "The language agreed on by the conference committee means more time and more study than I think is necessary, but it also means definite action will be taken."
In essence, I agree with Fernholz's take on the dynamics. But I think further study of this might actually be a good idea. Franken's proposal is that instead of the issuer of a security picking which rating agency he wants to have rate his security, that instead the security should be submitted to a pool that then randomly assigns it to a rater. In theory, this should curb conflicts of interest that allegedly undermined the soundness of the ratings process.
The thing is that I'm not sure conflicts of interest are really the problem here. For a lengthy account, see my salad-rating analogy, but the short version is that nobody would tell his friends "yeah guys, let's go see The A-Team, the film critic the studio hired to review it said it was awesome." The thing is that if you want to read a movie review, you presumably actually want to know if the movie is good. By contrast, there are lots of regulatory-compliance reasons why you might want to buy a AAA-rated security that are to a large extent independent of whether or not the security deserves a AAA rating. You take care of this by changing things on the regulatory side, which I believe both versions of the bill do.
Franken-style randomizing could do some good, or else it could replace a conflict of interest (bad) with a scenario in which agencies have no incentive whatsoever to invest time and money in sound methods (worse). But that may be wrong or there may be good ways around it—I'd actually like to see this studied.