Money as the Ultimate Giffen Good
This post is contributed by StatsGuy, an occasional guest contributor and commenter.
Monday August 8 2011 witnessed a truly impressive financial spectacle—a natural experiment of the kind we see only once a century or so.  The S&P downgraded US debt, and the price of US Treasuries skyrocketed.
Many pundits were left scratching their heads.  Professional traders tripped over themselves trying to get out of the way.  Macroeconomists at least had an explanation, arguing that the downgrade meant substantially lower growth, and this forced people to shift into Treasuries since bonds rise when growth projections diminish.
While some macroeconomists have an inkling of what is going on, I suspect they got their causation backwards.  Why would an increase in a risk rating on debt directly lower growth projections?  Usually, the increases in risk ratings cause increases in interest rates, and it's the rate hikes that harm growth.  But, um, nominal interest rates went down, right?  Shouldn't that have helped growth?  More sophisticated economists will note that when they talk about rates, they mean the real rate (adjusted for inflation), and that if inflation expectations drop more than nominal interest rates, then real interest rates go up and this will slow growth.  However, this did not happen—real interest rates actually declined about 0.2% along most of  the yield curve between Monday the 8th and Tuesday the 9th.  And if real rates declined, how would this cause lower growth?  Instead, I suspect the decline in real rates was the outcome of lower expected growth.  It's all very circular and confusing, but at least I'm not alone.  Others seem even more confused.
For example, Dick Bove said:  "We have people buying Treasury securities because they're worried about the Treasury.  We've got people selling banks stocks, taking the cash and putting into the banks for safety. It doesn't make sense. What you're seeing is this adjustment is occurring and people are not sure how to react to this adjustment."
While it all seems confusing, I would argue there's a very simple explanation, and that people are behaving rationally.  Money (and by extension, US debt), is a Giffen good.  This is an argument I made to Scott Sumner in 2009 here and in emails.  Recently Eric Falkenstein made it here.  Simply, as the price goes up, consumption increases.  This is because the income effect (people getting poorer) dominates the substitution effect (people want to shift to other assets).  This is a pure microeconomic explanation of the drop in Treasury rates after the downgrade, and unlike the macroeconomic explanation does not require a circular argument with uncertain directionality in the causation.  Let me explain . . .
Wealth, at the simplest level, is expected future consumption.  Rational people try to preserve and increase future consumption (let's pretend we're all rational).  Generally speaking, we have decreasing marginal returns to wealth.  (The future consumption purchased by your billionth dollar isn't as valuable to you as your thousandth dollar.)  Wealth is volatile, and depends on the future state of the world and one's current asset allocation.  Specifically, it depends on future price uncertainty (inflation), expected asset price growth, and perceived asset risk.
Most models tend to treat money like a normal good.  Thus, when price of money goes up (in terms of other goods and assets), people shift out of money and buy other assets.  Likewise, when the risk of holding money increases, they shift assets out of money.  I'm arguing here that in certain cases (e.g., in the presence of a deflationary environment) this does not happen because the utility of wealth is massively nonlinear.  This non-linearity is ubiquitous.  In finance, it takes the form of margin calls, bank covenants that require posting collateral, credit liquidations, and similar liquidity events.  Among private actors, it takes the form of default threats on major debts (notably, home mortgages).
What effect does this nonlinearity have?  Allow me to illustrate.  Imagine Mr. Midd L. Class owns an asset portfolio that has as projected wealth profile as described in the picture below.  The blue dashed line is his expected wealth trend line (the average return on investments).  The dashed grey lines represent the upper and lower bounds for Mr. Midd L. Class' wealth at any given point in time.  The solid red line is a level at which his wealth MUST not decline below, lest he face a major liquidity event or possibly even a subsistence event.  (All of this can be expressed mathematically, but the math doesn't add anything to the argument.)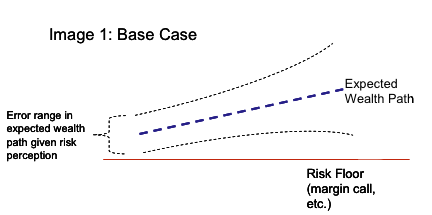 At the start of time, Mr. Midd L. Class has a typical investment portfolio, let's say 40% stocks, 40% bonds, 10% cash, and 10% other.  Each of these investments contributes to the expected return and to the variation in the return (which we will call risk).  Let's say one of these asset classes (the riskiest) suddenly loses value.   This can be reflected by shifting the trend line down, as in Image 2: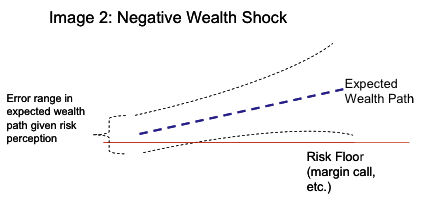 Note that this asset allocation is no longer acceptable to Mr. Midd L. Class because at some point in the future he runs the risk of dropping below the red line.  Likewise, imagine that the expected wealth path remained stable but there was a sudden increase in the perceived risk of the safest of his investments (which increases the perceived risk of the entire portfolio).  This might look like Image 3 below: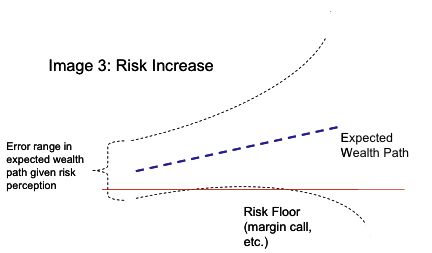 In either case (decrease in current wealth or an increase in risk of safe assets), Mr. Midd L. Class will seek an alternative asset allocation that meets his criteria (maximizes expected future wealth without risking a negative liquidity event).  This will generally be accomplished by shifting the balance of his portfolio from high risk/high yield assets to low risk/low yield assets—in other words, selling stocks and buying Treasuries.  In the case of Image 2 (caused by a decrease in wealth, such as a stock market crash), this will force increased selling even if the average expected return on stocks becomes higher.  In the case of Image 3 (caused by an increase in the default risk of bonds), Mr. Midd L. Class will shift assets away from his riskiest assets (stocks) to his least risky assets (bonds and cash), even though the cause of the problem was the increasing risk of bonds.  In both cases, as the effective price of bonds increases (when price is measured using risk-adjusted return), Mr. Midd L. Class will actually buy more bonds.
The income effect derived from the risk of falling below the red line (where utility is highly non-linear) dominates the substitution effect (the incentive to shift to higher yielding assets).  Mr. Midd L. Class's expected wealth trajectory now looks like Image 4, low yielding but safe.  Mr. Midd L. Class also probably responds by reducing his overall consumption (which at the aggregate level reduces overall demand).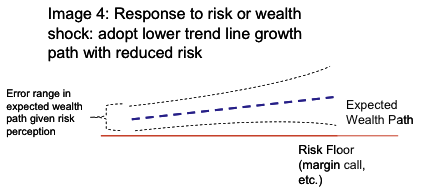 Macroeconomists might observe that none of this is inconsistent with some macroeconomic models, and this is true.  If everyone simultaneously experiences a wealth decline and shifts out of riskier (higher yielding) assets, this decreases investment in riskier high return enterprise, and growth slows.  Slower growth means less expected future supply, and less expected future supply means less present demand . . . and the vicious circle we all know and love.  Macroeconomics reinforces this dynamic, but the natural experiment we all observed when the S&P downgraded US debt shows that it's not just macro- but also microeconomic behavior that explains much of the pro-cyclicality in highly leveraged capital markets.  Without the presence of massive leverage, the macroeconomic problems would still exist, but the pro-cyclical microeconomic factors would at least be dampened.  This pro-cyclicality augments macroeconomic risk, and creates a very real cost to using a massively leveraged credit-based monetary system.