Micron's Results Boosted by Acquisition of Elpida Memory
Micron Technology (MU) posted stellar quarterly results, bolstered by the acquisition of bankrupt Japanese rival Elpida Memory Inc. in July of last year. The company reported adjusted EPS of 77 cents for the first quarter of fiscal year 2014 (1QFY14), beating consensus estimates of 44 cents. Micron Technology's share price was up 7% in after-market trading following the earnings announcement.
The Idaho-based memory maker's revenues more than doubled to $4.04 billion, reflecting an increase of 120% year-over-year (YoY), and topped analyst estimates of $3.72 billion. Only a year ago, Micron was in a loss and prices for DRAM were declining. However, with the strategic acquisition of Elpida Memory and a relative rebound in prices, the company is once again on track.
Gross margins improved to 32% for the quarter, from 25% recorded in the previous quarter. In contrast, gross margins for 1QFY13 were -12%.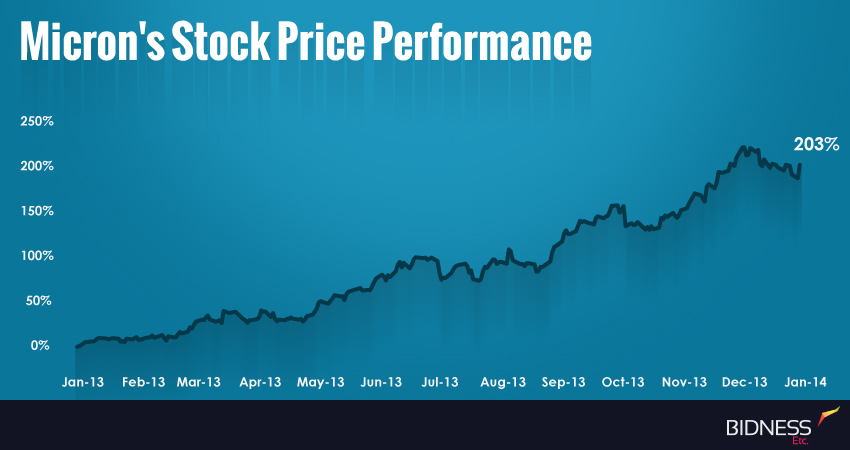 Micron manufactures and sells DRAM, NAND flash memory, and NOR flash memory. In 2013, DRAM sales generated 48% of the company's overall revenues, while NAND sales generated 39.6%. The company reported a 69% increase in the sales of DRAM products compared to the previous quarter, partially boosted by the increase in volumetric sales because of the Elpida acquisition.
Gross margins for the DRAM business were in the low to mid 30% range, reflecting an improvement of seven percentage points over the previous quarter, due to cost restructuring as a result of the acquisition of Elpida. Although average selling prices were below the industry average, the improved cost restructure and higher margins in end markets resulted in better gross margins for the company.
The demand for NAND products, which are used mostly in flash memory and solid state drives, has been booming after an increase in demand for smartphones and tablets. Micron reported an 8% increase in revenues generated through NAND products over the last quarter, and the company's NAND business crossed the $1 billion mark for the first time.
The company reported operating cash flow of $1.5 billion after fully integrating Elpida. Its free cash flow of $838 million was significantly higher than the $385 million recorded in 4QFY13.
Micron has a favorable outlook for the year. The recent fire at a SK Hynix plant in China has relieved the over-supply situation in the market. According to Monika Garg, an analyst at Pacific Crest Securities, the fire at Hynix, which is second-largest producer of memory chips, has caused an estimated rise of 25% in PC DRAM prices. Industry sources say it may take three to six months for the damage to be repaired, and Micron stands to gain from such a scenario.
Micron's shares gained over 200% in 2013.