Mervyn King ne regrette rien
I don't know whether Mervyn King is a fan of Edith Piaf. But where monetary policy is concerned, we can say he is not a man burdened by regrets. In a nutshell, the governor of Britain's central bank had this to say last night in Newcastle about Britain's above target inflation and the Bank's response to it.
First, nearly all the inflation that Britain had seen in the past few years was due to factors beyond the Bank's control - like changes in VAT, and sharp rises in the world price of fuel and food. He said these would push inflation up again in 2011 - to "between 4 and 5 per cent". Partly as a result, we could expect real wages to fall for the 6th year in a row, the first time that has happened since the 1920s.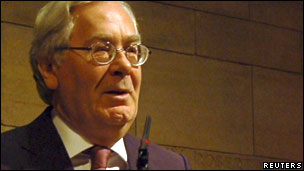 But, raising interest rates to prevent that leap in inflation would have squeezed living standards even more, by hurting growth. To think otherwise was a delusion:
"There is a misapprehension in some quarters that the MPC could have prevented the squeeze in living standards by raising interest rates over the past year to bring inflation below its present level. That view is a misunderstanding of how monetary policy works... if the MPC had raised the Bank Rate significantly, inflation might well have started to fall back this year, but only because the recovery would have been slower, unemployment higher and average earnings rising even more slowly than now. The erosion of living standards would have been even greater. The idea that the MPC could have preserved living standards, by preventing the rise in inflation without also pushing down earnings growth further, is wishful thinking."
Some, such as the Financial Times' Economics Editor Chris Giles, have asked whether the Bank would really have followed the same approach, if they had been able to predict all the forces that would push inflation up. But the governor's answer last night was yes - he would do it all again:
"Even if we had known a year ago that 2010 would bring further increases in food, energy and other import prices, as well as a rise in VAT, it would not have been sensible to pretend that a tightening of monetary policy to offset those upwards pressures on CPI inflation was consistent with aiming to keep inflation at the target in the medium term."
Many in the Bank will see yesterday's poor growth figures as a vindication of their decision to keep the official interest rate at a record low. But they surely admit that the bad news from the economy has not made their job any easier.
Looking ahead, the Bank's governor admitted there were upside risks to inflation, which it would carefully consider. But - to return to his theme - the MPC was not going to be spooked into the wrong policy by misplaced chatter about its credibility:
"The headlines will inevitably focus on the immediate effect of shocks on CPI inflation rather than the outlook further ahead. Central banks, though, do not set policy or react according to headlines. They simply do their work. We shall try even harder to explain the basis for policy decisions. Credibility was not earned in a year, and it will not be lost in a year."
Mr King's speech will not silence Andrew Sentence. This week he repeated his call for higher interest rates, on the grounds that not tightening could force the Bank to impose much harsher medicine down the road.
Nor will it silence the critics in the City, who wonder whether the Bank has the nerve - or even the wherewithal - to bring down inflation in the unfavourable global environment I described on Friday, where prices are turning against the UK and against British workers. But after last night they cannot say the governor has failed to make his case.