McDonald's Corporation: A Must Own Dividend Stock
Dobromir Stoyanov submits:McDonald's Corporation (MCD), together with its subsidiaries, franchises and operates McDonald's restaurants in the food service industry worldwide. The company's share of the US fast food market is several times larger than its closest competitors, Burger King (BKC) and Wendy's (WEN).McDonald's is a major component of the S&P 500 and Dow Industrials indexes. The company is also a dividend aristocrat, which has been consistently increasing its dividends for 33 consecutive years. McDonald's is one of the world's most recognizable brands. Because of this and because it has performed very well to stockholders over the years, it is one of the most widely held income stocks by dividend investors.Over the past decade this dividend stock has delivered an annual average total return of 8.70% to its shareholders.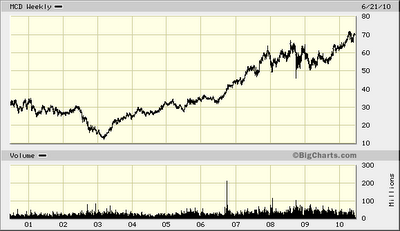 At the same time the company has managed to deliver an impressive 12.20% average annual increase in its EPS since 2000. Analysts are expecting MCD to grow EPS to $4.49 by 2010 and $4.87 in 2011. The economic slowdown is making consumers trade down and dine out at fast food places like the ones owned by the Golden Arches. Mcdonald's has been focusing more on expanding the sales of existing restaurants since 2003 versus relying on new stores to be the driver for growth. Same store sales and profits have been driven by product innovation, and comparable-store sales growth, and are part of the company's recent success. The constant innovations in the menu are indeed fueling strong same store sales volumes. The McCafe Offerings, in addition to the Dollar Breakfast Menu and Restaurant remodeling are further fuelling the growth in sales.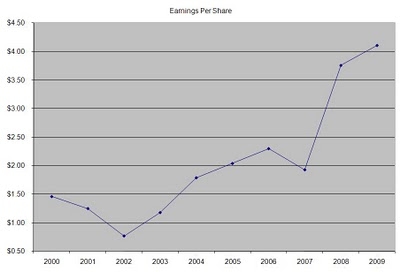 International operations, which accounted for almost half of operating profits in 2008, have been a major growth factor over the past two decades. This however exposes the company to fluctuations in exchange rates, which could add or detract from EPS performance. MCD's stated operating priorities include fixing operating inadequacies in existing restaurants; taking a more integrated and focused approach to growth, with an emphasis on increasing sales, margins and returns in existing restaurants; and ensuring the correct operating structure and resources, aligned behind focusing priorities that create benefits for its customers and restaurants.Complete Story »