McConnell doesn't have the votes to filibuster FinReg. Yet.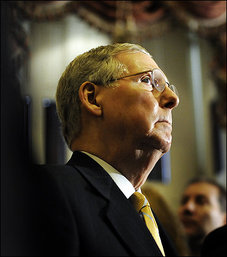 Looks like Mitch McConnell is having some trouble holding Senate Republicans to a filibuster strategy on financial reform.
Senate Republican Leader Mitch McConnell (Ky.) does not have enough solid commitments from GOP lawmakers to block consideration of a Democratic Wall Street reform bill.
McConnell has circulated a letter within the GOP conference that would have Republicans pledge to block a motion to proceed to a financial regulatory reform bill unless Democrats agree to reopen it for bipartisan negotiations.
But McConnell has fallen short of the 41 signatures he needs to send Senate Majority Leader Harry Reid (D-Nev.) a clear signal.
Right now, the only named dissenter is Sen. Susan Collins. Whether she's the only dissenter or one of a handful, however, is very important. One thing we've seen at various point in the past year is that it's very, very difficult for any Republican to be the only Republican on a major Democratic bill. Olympia Snowe can negotiate on health-care reform and Bob Corker can sit with Chris Dodd on financial reform, but at the end of the day, if they can't bring anyone onto the compromise they've hammered out, they probably can't commit to it, either.
It's one thing to be part of a moderate bloc bucking the party. Blame is diffuse, and so too is punishment. It's another thing to be the only Republican bucking the party. Then blame, and punishment, are concentrated. You'll get made an example of.
Photo credit: Melina Mara/The Washington Post